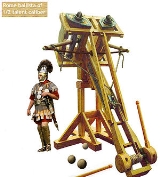 Catapult
A
catapult
is a device used to throw or hurl a
projectile
Projectile
A projectile is any object projected into space by the exertion of a force. Although a thrown baseball is technically a projectile too, the term more commonly refers to a weapon....
a great distance without the aid of explosive devices—particularly various types of ancient and medieval
siege engine
Siege engine
A siege engine is a device that is designed to break or circumvent city walls and other fortifications in siege warfare. Some have been operated close to the fortifications, while others have been used to attack from a distance. From antiquity, siege engines were constructed largely of wood and...
s. Although the catapult has been used since ancient times, it has proven to be one of the most effective mechanisms during warfare. The word 'catapult' comes from the
Latin
Latin
Latin is an Italic language originally spoken in Latium and Ancient Rome. It, along with most European languages, is a descendant of the ancient Proto-Indo-European language. Although it is considered a dead language, a number of scholars and members of the Christian clergy speak it fluently, and...
'catapulta', which in turn comes from the
Greek
Greek language
Greek is an independent branch of the Indo-European family of languages. Native to the southern Balkans, it has the longest documented history of any Indo-European language, spanning 34 centuries of written records. Its writing system has been the Greek alphabet for the majority of its history;...
καταπέλτης (
katapeltēs
), itself from (
kata
), "downwards" + πάλλω (
pallō
), "to toss, to hurl".