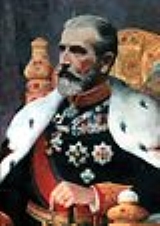 Carol I of Romania
Carol I
born
Prince Karl of Hohenzollern-Sigmaringen
was reigning prince and then
King of Romania
King of Romania
King of the Romanians , rather than King of Romania , was the official title of the ruler of the Kingdom of Romania from 1881 until 1947, when Romania was proclaimed a republic....
from 1866 to 1914. He was elected prince of
Romania
Romania
Romania is a country located at the crossroads of Central and Southeastern Europe, on the Lower Danube, within and outside the Carpathian arch, bordering on the Black Sea...
on 20 April 1866 following the overthrow of Alexandru Ioan Cuza by a palace coup. Following the defeat of the Ottoman Empire in the Russo-Turkish War, he was proclaimed King of Romania on 26 March 1881. He was the first ruler of the
Hohenzollern-Sigmaringen
Hohenzollern-Sigmaringen
-Noble jurisdictions:Prince Karl Eitel of Hohenzollern-Sigmaringen, and descendants of his nephew Ferdinand ruled over the Kingdom of Romania, as Karl Eitel did not have children...
dynasty, which ruled the country until the proclamation of a republic in 1947.
During his reign, he personally led Romanian troops during the Russo-Turkish War and assumed command of the Russo/Romanian army during the siege of Plevna.