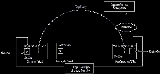 Capillary electrophoresis
Capillary electrophoresis
(
CE
), also known as capillary zone electrophoresis (CZE), can be used to separate ionic species by their charge and frictional forces and hydrodynamic radius. In traditional
electrophoresis
Electrophoresis
Electrophoresis, also called cataphoresis, is the motion of dispersed particles relative to a fluid under the influence of a spatially uniform electric field. This electrokinetic phenomenon was observed for the first time in 1807 by Reuss , who noticed that the application of a constant electric...
, electrically charged analytes move in a conductive
liquid
Liquid
Liquid is one of the three classical states of matter . Like a gas, a liquid is able to flow and take the shape of a container. Some liquids resist compression, while others can be compressed. Unlike a gas, a liquid does not disperse to fill every space of a container, and maintains a fairly...
medium under the influence of an
electric field
Electric field
In physics, an electric field surrounds electrically charged particles and time-varying magnetic fields. The electric field depicts the force exerted on other electrically charged objects by the electrically charged particle the field is surrounding...
. Introduced in the 1960s, the technique of capillary electrophoresis (CE) was designed to separate species based on their size to charge ratio in the interior of a small capillary filled with an
electrolyte
Electrolyte
In chemistry, an electrolyte is any substance containing free ions that make the substance electrically conductive. The most typical electrolyte is an ionic solution, but molten electrolytes and solid electrolytes are also possible....
.
The instrumentation needed to perform capillary electrophoresis is relatively simple.