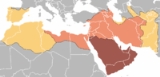 Caliph
The
Caliph
is the
head of state
Head of State
A head of state is the individual that serves as the chief public representative of a monarchy, republic, federation, commonwealth or other kind of state. His or her role generally includes legitimizing the state and exercising the political powers, functions, and duties granted to the head of...
in a
Caliphate
Caliphate
The term caliphate, "dominion of a caliph " , refers to the first system of government established in Islam and represented the political unity of the Muslim Ummah...
, and the title for the ruler of the
Islam
Islam
Islam . The most common are and . : Arabic pronunciation varies regionally. The first vowel ranges from ~~. The second vowel ranges from ~~~...
ic
Ummah
Ummah
Ummah is an Arabic word meaning "community" or "nation." It is commonly used to mean either the collective nation of states, or the whole Arab world...
, an Islamic community ruled by the Shari'ah. It is a transcribed version of the Arabic word which means "successor" or "representative". Following
Muhammad's
Muhammad
Muhammad |ligature]] at U+FDF4 ;Arabic pronunciation varies regionally; the first vowel ranges from ~~; the second and the last vowel: ~~~. There are dialects which have no stress. In Egypt, it is pronounced not in religious contexts...
death in 632, the early leaders of the Muslim nation were called "Khalifat Rasul Allah", the political successors to the messenger of God (referring to Muhammad).
644 Umar ibn al-Khattab, the second Muslim caliph, is martyred by a Persian slave in Medina.
680 Battle of Karbala: Hussain bin Ali, the grandson of the Prophet Muhammad, is decapitated by forces under Caliph Yazid I. This is commemorated by Muslims as Aashurah.
762 Baghdad is founded by caliph Al-Mansur.
786 Harun al-Rashid becomes the Abbasid caliph upon the death of his brother al-Hadi.
1009 The Church of the Holy Sepulchre, a Christian church in Jerusalem, is completely destroyed by the Fatimid caliph Al-Hakim bi-Amr Allah, who hacks the Church's foundations down to bedrock.