 Cadillac Model Thirty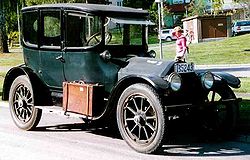 The
Cadillac

Cadillac

Cadillac is an American luxury vehicle marque owned by General Motors . Cadillac vehicles are sold in over 50 countries and territories, but mostly in North America. Cadillac is currently the second oldest American automobile manufacturer behind fellow GM marque Buick and is among the oldest...


Model Thirty
was introduced in December, 1909, and sold through 1911. It was the company's only model for those years and was based on the 1907 Model G. The 1912
Model 1912
, 1913
Model 1913
, and 1914
Model 1914
were similar but used larger engines. The entire range was extensively revamped with a V8 engine for 1915, however.
The 1910 model was available with a closed body, the first time an automobile manufacturer had offered this type.
The engine was the same 226.2 in³ (3.7 L)
four cylinder
Straight-4
The inline-four engine or straight-four engine is an internal combustion engine with all four cylinders mounted in a straight line, or plane along the crankcase. The single bank of cylinders may be oriented in either a vertical or an inclined plane with all the pistons driving a common crankshaft....
L-head design used in the Model G, and that car's simple sliding-gear transmission was also adopted. The engine was bored out to 255.4 in³ (4.2 L) for 1910 and 286.3 in³ (4.7 L) for 1911 and 1912. The engine was reworked, with a longer stroke, for 1913, giving 365.8 in³ (6.0 L) of displacement. This same engine served in 1914.
The 1912 model was the first car to use an electric starter, as well as the first with an integrated electrical system.