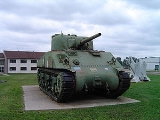 CFB Borden
Canadian Forces Base Borden
(also
CFB Borden
) is a
Canadian Forces base
Canadian Forces base
A Canadian Forces Base or CFB is a military installation of the Canadian Forces. For a facility to qualify as a Canadian Forces Base, it must station one or more major units .Minor installations are named Canadian Forces Station or CFS A Canadian Forces Base or CFB (French Base des forces...
located in
Ontario
Ontario
Ontario is a province of Canada, located in east-central Canada. It is Canada's most populous province and second largest in total area. It is home to the nation's most populous city, Toronto, and the nation's capital, Ottawa....
.
The historic birthplace of the
Royal Canadian Air Force
Royal Canadian Air Force
The history of the Royal Canadian Air Force begins in 1920, when the air force was created as the Canadian Air Force . In 1924 the CAF was renamed the Royal Canadian Air Force and granted royal sanction by King George V. The RCAF existed as an independent service until 1968...
, CFB Borden is the largest training facility in the
Canadian Forces
Canadian Forces
The Canadian Forces , officially the Canadian Armed Forces , are the unified armed forces of Canada, as constituted by the National Defence Act, which states: "The Canadian Forces are the armed forces of Her Majesty raised by Canada and consist of one Service called the Canadian Armed Forces."...
. The base is run by Canadian Forces Support Training Group (CFSTG) and reports to the Canadian Defence Academy (CDA) in
Kingston
Kingston, Ontario
Kingston, Ontario is a Canadian city located in Eastern Ontario where the St. Lawrence River flows out of Lake Ontario. Originally a First Nations settlement called "Katarowki," , growing European exploration in the 17th Century made it an important trading post...
.
At the height of the
First World War
World War I
World War I , which was predominantly called the World War or the Great War from its occurrence until 1939, and the First World War or World War I thereafter, was a major war centred in Europe that began on 28 July 1914 and lasted until 11 November 1918...
, the
Borden Military Camp
opened at a location on a glacial
moraine
Moraine
A moraine is any glacially formed accumulation of unconsolidated glacial debris which can occur in currently glaciated and formerly glaciated regions, such as those areas acted upon by a past glacial maximum. This debris may have been plucked off a valley floor as a glacier advanced or it may have...
west of
Barrie
Barrie
Barrie may refer to:* Barrie, city in Ontario, Canada* Barrie , Canadian federal electoral district* Barrie , provincial electoral district* Barrie—Simcoe—Bradford, former Canadian electoral district...
in 1916 to train units for the
Canadian Expeditionary Force
Canadian Expeditionary Force
The Canadian Expeditionary Force was the designation of the field force created by Canada for service overseas in the First World War. Units of the C.E.F. were divided into field formation in France, where they were organized first into separate divisions and later joined together into a single...
.