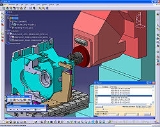 CATIA
CATIA
is a multi-platform
CAD
Computer-aided design
Computer-aided design , also known as computer-aided design and drafting , is the use of computer technology for the process of design and design-documentation. Computer Aided Drafting describes the process of drafting with a computer...
/
CAM
Computer-aided manufacturing
Computer-aided manufacturing is the use of computer software to control machine tools and related machinery in the manufacturing of workpieces. This is not the only definition for CAM, but it is the most common; CAM may also refer to the use of a computer to assist in all operations of a...
/
CAE
Computer-aided engineering
Computer-aided engineering is the broad usage of computer software to aid in engineering tasks. It includes computer-aided design , computer-aided analysis , computer-integrated manufacturing , computer-aided manufacturing , material requirements planning , and computer-aided planning .- Overview...
commercial software suite developed by the French company
Dassault Systemes
Dassault Systemes
Dassault Systèmes S.A. is a leading company specializing in 3D and PLM software.Dassault Systèmes develops and markets PLM application software and services that support industrial processes and provide a 3D vision of the entire lifecycle of products from conception to maintenance to recycling...
. Written in the
C++
C++
C++ is a statically typed, free-form, multi-paradigm, compiled, general-purpose programming language. It is regarded as an intermediate-level language, as it comprises a combination of both high-level and low-level language features. It was developed by Bjarne Stroustrup starting in 1979 at Bell...
programming language
Programming language
A programming language is an artificial language designed to communicate instructions to a machine, particularly a computer. Programming languages can be used to create programs that control the behavior of a machine and/or to express algorithms precisely....
, CATIA is the cornerstone of the Dassault Systemes
product lifecycle management
Product lifecycle management
In industry, product lifecycle management is the process of managing the entire lifecycle of a product from its conception, through design and manufacture, to service and disposal...
software suite.
CATIA competes in the CAD/CAM/CAE market with
Siemens NX
NX (Unigraphics)
NX, also known as NX Unigraphics or usually just U-G, is an advanced CAD/CAM/CAE software package developed by Siemens PLM Software.It is used, among other tasks, for:* Design...
, Creo Elements/Pro,
Autodesk Inventor
Autodesk Inventor
Autodesk Inventor, developed by U.S.-based software company Autodesk, is 3D mechanical solid modeling design software for creating 3D digital prototypes used in the design, visualization and simulation of products...
.
CATIA
started as an in-house development in 1977 by
French
France
The French Republic , The French Republic , The French Republic , (commonly known as France , is a unitary semi-presidential republic in Western Europe with several overseas territories and islands located on other continents and in the Indian, Pacific, and Atlantic oceans. Metropolitan France...
aircraft manufacturer
Avions Marcel Dassault
Dassault Aviation
Dassault Aviation is a French aircraft manufacturer of military, regional and business jets, a subsidiary of Dassault Group.It was founded in 1930 by Marcel Bloch as Société des Avions Marcel Bloch or "MB". After World War II, Marcel Bloch changed his name to Marcel Dassault, and the name of the...
, at that time customer of the CAD/CAM CAD software to develop Dassault's
Mirage
Mirage (aircraft)
Mirage is the name of a series of delta-winged fighters and bombers that have been produced by the French aircraft manufacturer Dassault Aviation, flown by the French Air Force, and widely exported to foreign counties.* Dassault Mirage III...
fighter jet, then was adopted in the aerospace, automotive, shipbuilding, and other industries.
Initially named
CATI
(
Conception Assistée Tridimensionnelle Interactive
— French for
Interactive Aided Three-dimensional Design
) — it was renamed CATIA in 1981, when Dassault created a subsidiary to develop and sell the software, and signed a non-exclusive distribution agreement with
IBM
IBM
International Business Machines Corporation or IBM is an American multinational technology and consulting corporation headquartered in Armonk, New York, United States. IBM manufactures and sells computer hardware and software, and it offers infrastructure, hosting and consulting services in areas...
.
In 1984, the
Boeing Company
Boeing
The Boeing Company is an American multinational aerospace and defense corporation, founded in 1916 by William E. Boeing in Seattle, Washington. Boeing has expanded over the years, merging with McDonnell Douglas in 1997. Boeing Corporate headquarters has been in Chicago, Illinois since 2001...
chose CATIA as its main 3D CAD tool, becoming its largest customer.
In 1988, CATIA version 3 was ported from
mainframe computer
Mainframe computer
Mainframes are powerful computers used primarily by corporate and governmental organizations for critical applications, bulk data processing such as census, industry and consumer statistics, enterprise resource planning, and financial transaction processing.The term originally referred to the...
s to
UNIX
Unix
Unix is a multitasking, multi-user computer operating system originally developed in 1969 by a group of AT&T employees at Bell Labs, including Ken Thompson, Dennis Ritchie, Brian Kernighan, Douglas McIlroy, and Joe Ossanna...
.
In 1990, General Dynamics Electric Boat Corp chose CATIA as its main 3D CAD tool, to design the U.S.