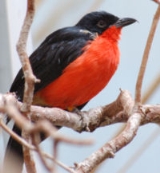 Bushshrike
The
bushshrikes
are smallish
passerine
Passerine
A passerine is a bird of the order Passeriformes, which includes more than half of all bird species. Sometimes known as perching birds or, less accurately, as songbirds, the passerines form one of the most diverse terrestrial vertebrate orders: with over 5,000 identified species, it has roughly...
bird
Bird
Birds are feathered, winged, bipedal, endothermic , egg-laying, vertebrate animals. Around 10,000 living species and 188 families makes them the most speciose class of tetrapod vertebrates. They inhabit ecosystems across the globe, from the Arctic to the Antarctic. Extant birds range in size from...
species
Species
In biology, a species is one of the basic units of biological classification and a taxonomic rank. A species is often defined as a group of organisms capable of interbreeding and producing fertile offspring. While in many cases this definition is adequate, more precise or differing measures are...
. They were formerly classed with the true
shrike
Shrike
Shrikes are passerine birds of the family Laniidae. The family is composed of thirty-one species in three genera. The family name, and that of the largest genus, Lanius, is derived from the Latin word for "butcher", and some shrikes were also known as "butcher birds" because of their feeding habits...
s in the family Laniidae, but are now considered sufficiently distinctive to be separated from that group as the family
Malaconotidae
.
This is an African group of species which are found in scrub or open woodland. They are similar in habits to shrikes, hunting insects and other small prey from a perch on a bush. Although similar in build to the shrikes, these tend to be either colourful species or largely black; some species are quite secretive.
Some bushshrikes have flamboyant displays. The male puffbacks puff out the loose feathers on their rump and lower back, to look almost ball-like.
These are mainly insectivorous forest or scrub birds. Up to four eggs are laid in a cup nest in a tree.
List of species in taxonomic order
External links