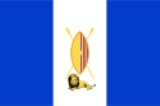 Buganda
Buganda
is a
subnational
Administrative division
An administrative division, subnational entity, or country subdivision is a portion of a country or other political division, established for the purpose of government. Administrative divisions are each granted a certain degree of autonomy, and are required to manage themselves through their own...
kingdom
Monarchy
A monarchy is a form of government in which the office of head of state is usually held until death or abdication and is often hereditary and includes a royal house. In some cases, the monarch is elected...
within
Uganda
Uganda
Uganda , officially the Republic of Uganda, is a landlocked country in East Africa. Uganda is also known as the "Pearl of Africa". It is bordered on the east by Kenya, on the north by South Sudan, on the west by the Democratic Republic of the Congo, on the southwest by Rwanda, and on the south by...
. The kingdom of the Ganda people, Buganda is the largest of the traditional kingdoms in present-day Uganda, comprising all of Uganda's
Central Region
Districts of Uganda
Uganda is divided into 111 districts and one city across four administrative regions. Most districts are named after their main commercial and administrative towns....
, including the Ugandan capital
Kampala
Kampala
Kampala is the largest city and capital of Uganda. The city is divided into five boroughs that oversee local planning: Kampala Central Division, Kawempe Division, Makindye Division, Nakawa Division and Lubaga Division. The city is coterminous with Kampala District.-History: of Buganda, had chosen...
, with the exception of the disputed eastern
Kayunga District
Kayunga District
Kayunga District is a district in Central Uganda. Like most other Ugandan districts, it is named after its 'chief town', Kayunga.-Location:Kayunga District is bordered by Amolatar District to the north, Buyende District to the northeast, Kamuli District to the east, Jinja District to the southeast,...
. The 5.5 million
Baganda
(singular
Muganda
; often referred to simply by the root word and adjective, Ganda) make up the largest Ugandan ethnic group, representing approximately 16.9% of
Uganda's population
Demographics of Uganda
This article is about the demographic features of the population of Uganda, including population density, ethnicity, education level, health of the populace, economic status, religious affiliations and other aspects of the population.-Ethnic Diversity:...
.
Buganda has a
long and extensive history
History of Buganda
The history of Buganda is that of the kingdom of the Baganda people, the largest of the traditional kingdoms in present-day Uganda.-Pre-colonial and colonial Buganda:...
.