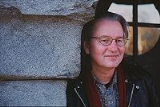 Bruce Sterling
Michael Bruce Sterling
(born April 14, 1954) is an American science fiction author, best known for his novels and his work on the
Mirrorshades
anthology, which helped define the
cyberpunk
Cyberpunk
Cyberpunk is a postmodern and science fiction genre noted for its focus on "high tech and low life." The name is a portmanteau of cybernetics and punk, and was originally coined by Bruce Bethke as the title of his short story "Cyberpunk," published in 1983...
genre.
Sterling is, along with
William Gibson
William Gibson
William Gibson is an American-Canadian science fiction author.William Gibson may also refer to:-Association football:*Will Gibson , Scottish footballer...
,
Rudy Rucker
Rudy Rucker
Rudolf von Bitter Rucker is an American mathematician, computer scientist, science fiction author, and philosopher, and is one of the founders of the cyberpunk literary movement. The author of both fiction and non-fiction, he is best known for the novels in the Ware Tetralogy, the first two of...
,
John Shirley
John Shirley
John Shirley is an American fantasist, author of noir fiction, and science-fiction writer. Shirley is a prolific writer of novels and short stories, TV scripts and screenplays who has published over 30 books and 10 collections...
,
Lewis Shiner
Lewis Shiner
Lewis Shiner is an American writer.Shiner began his career as a science fiction writer, identified early on with cyberpunk, and later wrote more mainstream novels, albeit often with magical realism and fantasy elements...
, and
Pat Cadigan
, one of the founders of the cyberpunk movement in science fiction, as well as its chief ideological promulgator, and one whose
polemic
Polemic
A polemic is a variety of arguments or controversies made against one opinion, doctrine, or person. Other variations of argument are debate and discussion...
s on the topic earned him the nickname "Chairman Bruce".
As a philosophical problem, it comes down to a better way to engage with the passage of time; and I think we're getting close to one, because the imaginative loss of the future is becoming acute.The most effective political actors on the planet now are people who want to blow themselves up.These are people who really don't want to get out of the bed in the morning and face another unpredictable day.

in the Long Now|Long Now talk "The Singularity: Your Future as a Black Hole" (2004)
Tomorrow composts today.

in Shaping Things (2005)