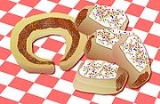 Bruccellati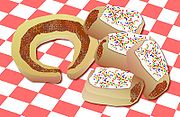 Brucellati
, in Sicilian, literally "little bracelets" are uniquely
Sicilian
Sicily
Sicily is a region of Italy, and is the largest island in the Mediterranean Sea. Along with the surrounding minor islands, it constitutes an autonomous region of Italy, the Regione Autonoma Siciliana Sicily has a rich and unique culture, especially with regard to the arts, music, literature,...
fig cookies of a sweet dough rolled out and filled with figs as well as numerouus other ingredients. The ingredients are as varied as the names the cookies are called by, apparently a function of the town or region in which they are made. In most of Sicily (as in most Sicilian-American homes) they are called "cucciddati". They often include dates or date paste, and "cucciddati" could be interpreted as "date cookies". Other towns call them "nucciddati" (nut cookies), "zucciddati", "ucciddati", "vucciddati" and as in
Serradifalco
Serradifalco
Serradifalco is a town and comune in the province of Caltanissetta, Sicily, Italy.- History :Serradifalco was founded in a feudal fief which bore the same name since the late 15th century...
, pucciddati. That town's version includes ground figs and dates, nuts, and orange rinds. The rolls are either cut into short tubes, or curved around to form a "bracelet".
The cookies are a favorite at Christmas and wedding celebrations of many Sicilian-American and Sicilian families.