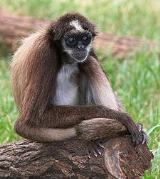 Brown Spider Monkey
The
brown spider monkey
or
variegated spider monkey
(
Ateles hybridus
) is a
critically endangered
Critically endangered
Version 2010.3 of the IUCN Red List of Threatened Species identified 3744 Critically Endangered species, subspecies and varieties, stocks and subpopulations.Critically Endangered by kingdom:*1993 Animalia*2 Fungi*1745 Plantae*4 Protista-References:...
species of
spider monkey
Spider monkey
Spider monkeys of the genus Ateles are New World monkeys in the subfamily Atelinae, family Atelidae. Like other atelines, they are found in tropical forests of Central and South America, from southern Mexico to Brazil...
, a type of
New World monkey
New World monkey
New World monkeys are the five families of primates that are found in Central and South America: Callitrichidae, Cebidae, Aotidae, Pitheciidae, and Atelidae. The five families are ranked together as the Platyrrhini parvorder and the Ceboidea superfamily, which are essentially synonymous since...
, from northern
Colombia
Colombia
Colombia, officially the Republic of Colombia , is a unitary constitutional republic comprising thirty-two departments. The country is located in northwestern South America, bordered to the east by Venezuela and Brazil; to the south by Ecuador and Peru; to the north by the Caribbean Sea; to the...
and north-western
Venezuela
Venezuela
Venezuela , officially called the Bolivarian Republic of Venezuela , is a tropical country on the northern coast of South America. It borders Colombia to the west, Guyana to the east, and Brazil to the south...
. Its taxonomic history has been confusing, and in the past it has been treated as a
subspecies
Subspecies
Subspecies in biological classification, is either a taxonomic rank subordinate to species, ora taxonomic unit in that rank . A subspecies cannot be recognized in isolation: a species will either be recognized as having no subspecies at all or two or more, never just one...
of either the
Geoffroy's spider monkey
Geoffroy's Spider Monkey
Geoffroy's spider monkey, Ateles geoffroyi, also known as black-handed spider monkey, is a species of spider monkey, a type of New World monkey, from Central America, parts of Mexico and possibly a small portion of Colombia. There are at least five subspecies. Some primatologists classify the...
or the
white-fronted spider monkey
White-fronted Spider Monkey
The white-fronted spider monkey , also known as the long-haired or white-bellied spider monkey, is an endangered species of spider monkey, a type of New World monkey. It is found in the north-western Amazon in Colombia, Ecuador, Venezuela, Peru and Brazil, ranging as far south as the lower Ucayali...
. Like all spider monkeys, it has very long, spindly limbs and a lengthy prehensile tail which can almost be called a fifth limb. The tail is made up of highly flexible, hairless tips with skin grooves which improves grip on tree branches and is adapted to its strictly arboreal lifestyle. The brown spider monkey has a whitish belly and patch on the forehead, and – highly unusual among spider monkeys – the eyes are sometimes blue.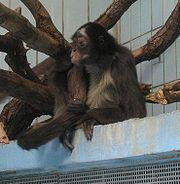 The brown spider monkey is now a highly threatened species, and some populations have already been extirpated. Few remaining populations are of adequate size to be long-term viable. Almost 60 brown spider monkeys are present in various
ISIS
International Species Information System
-External links:*...
-registered
zoo
Zoo
A zoological garden, zoological park, menagerie, or zoo is a facility in which animals are confined within enclosures, displayed to the public, and in which they may also be bred....
s (mostly in Europe), but breeding success has been limited and no births were reported between May 2009 and May 2010. There is ongoing habitat loss within its range, and it has been estimated that 98% of its habitat already is gone. It is also threatened by hunting (in some regions it is the favorite
game
Game (food)
Game is any animal hunted for food or not normally domesticated. Game animals are also hunted for sport.The type and range of animals hunted for food varies in different parts of the world. This will be influenced by climate, animal diversity, local taste and locally accepted view about what can or...
) and the wild animals trade. The brown spider monkey is among "
The World's 25 Most Endangered Primates
The World's 25 Most Endangered Primates
The World's 25 Most Endangered Primates is a list of highly endangered primate species selected and published by the International Union for Conservation of Nature Species Survival Commission Primate Specialist Group , the International Primatological Society , and Conservation International...
," and is one of only two Neotropical primates (the other being the
yellow-tailed woolly monkey
Yellow-tailed Woolly Monkey
The yellow-tailed woolly monkey is a New World monkey endemic to Peru. It is a rare primate species found only in the Peruvian Andes, in the departments of Amazonas and San Martin as well as bordering areas of La Libertad, Huanuco and Loreto...
) that has been included in this list in both 2006-2008 and 2008-2010.
External links