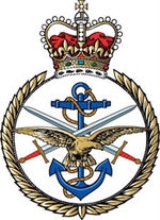 British Forces Gibraltar
British Forces Gibraltar
is the name given to the
British Armed Forces
British Armed Forces
The British Armed Forces are the armed forces of the United Kingdom of Great Britain and Northern Ireland.Also known as Her Majesty's Armed Forces and sometimes legally the Armed Forces of the Crown, the British Armed Forces encompasses three professional uniformed services, the Royal Navy, the...
stationed in the British overseas territory of
Gibraltar
Gibraltar
Gibraltar is a British overseas territory located on the southern end of the Iberian Peninsula at the entrance of the Mediterranean. A peninsula with an area of , it has a northern border with Andalusia, Spain. The Rock of Gibraltar is the major landmark of the region...
. Gibraltar is used primarily as a training area, thanks to its good climate and rocky terrain, and as a stopover for aircraft and ships
en route
to and from deployments
East of Suez
East of Suez
The phrase East of Suez is used in British military and political discussions in reference to imperial interests beyond the European theatre ....
or Africa.
Permanent units
A handful of units are permanently based in Gibraltar for its territorial defence:
HQ, British Forces Gibraltar
Royal Gibraltar Regiment

Royal Gibraltar Regiment

The Royal Gibraltar Regiment is the home defence unit for the British overseas territory of Gibraltar. It was formed in 1958 from the Gibraltar Defence Force as an infantry unit, with an integrated artillery troop.-Formation:...


- the territory's permanently based light infantry battalion, consisting of both regular and reserve elements.
Joint Provost and Security Unit
Royal Navy

Royal Navy

The Royal Navy is the naval warfare service branch of the British Armed Forces. Founded in the 16th century, it is the oldest service branch and is known as the Senior Service...


Gibraltar Squadron

Gibraltar Squadron

The Gibraltar Squadron is a unit of the British Royal Navy. It is the only resident sea-going Royal Naval unit in Gibraltar, attached to British Forces Gibraltar...


- two Scimitar class

Scimitar class patrol vessel

The Scimitar class is a class of fast patrol boat in service with the British Royal Navy.The two vessels of this class are of a commercial design known as the Lifespan Patrol Vessel built by Halmatic , and formerly served in an inshore waterways anti-terrorist role in Northern Ireland...


patrol boats, HMS Scimitar

HMS Scimitar (P284)

HMS Scimitar is a Scimitar-class fast patrol boat of the British Royal Navy. She is a Lifespan Patrol Vessel type boat and formerly served in inland waterway duties in Northern Ireland as MV Grey Fox. She was acquired to serve with the Gibraltar Squadron, tasked with policing, customs and search...


and HMS Sabre

HMS Sabre (P285)

HMS Sabre is a Scimitar-class fast patrol boat of the British Royal Navy. She was commissioned into the Gibraltar Squadron on 31 January 2003 , and is used for police, customs and rescue purposes...


, and three rigid hulled inflatable boats.
RAF Gibraltar

RAF Gibraltar

Royal Air Force Station Gibraltar, better known as RAF Gibraltar and formally as North Front, is a Royal Air Force station on Gibraltar. No military aircraft are currently stationed there, but there are regular visits...


- Gibraltar's military airfield has no resident units, but is utilised as and when required by aircraft on deployment or exercise.
Gibraltar Services Police

Gibraltar Services Police

The Gibraltar Defence Police is a civil police force which guards and enforces law on Ministry of Defence installations in Gibraltar. Prior to 17 December 2009 it was known as the Gibraltar Services Police...


- a civilian police force responsible for enforcing civil law on MoD property in Gibraltar, and is responsible to Commander, British Forces Gibraltar.
Commanders
External links