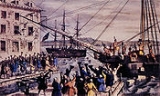 Boston Tea Party
The
Boston Tea Party
was a
direct action
Direct action
Direct action is activity undertaken by individuals, groups, or governments to achieve political, economic, or social goals outside of normal social/political channels. This can include nonviolent and violent activities which target persons, groups, or property deemed offensive to the direct action...
by colonists in
Boston
Boston
Boston is the capital of and largest city in Massachusetts, and is one of the oldest cities in the United States. The largest city in New England, Boston is regarded as the unofficial "Capital of New England" for its economic and cultural impact on the entire New England region. The city proper had...
, a town in the British
colony of Massachusetts
Province of Massachusetts Bay
The Province of Massachusetts Bay was a crown colony in North America. It was chartered on October 7, 1691 by William and Mary, the joint monarchs of the kingdoms of England and Scotland...
, against the
British government
Kingdom of Great Britain
The former Kingdom of Great Britain, sometimes described as the 'United Kingdom of Great Britain', That the Two Kingdoms of Scotland and England, shall upon the 1st May next ensuing the date hereof, and forever after, be United into One Kingdom by the Name of GREAT BRITAIN. was a sovereign...
and the monopolistic
East India Company
East India Company
The East India Company was an early English joint-stock company that was formed initially for pursuing trade with the East Indies, but that ended up trading mainly with the Indian subcontinent and China...
that controlled all the tea imported into the colonies. On December 16, 1773, after officials in Boston refused to return three shiploads of taxed tea to Britain, a group of colonists boarded the ships and destroyed the tea by throwing it into
Boston Harbor
Boston Harbor
Boston Harbor is a natural harbor and estuary of Massachusetts Bay, and is located adjacent to the city of Boston, Massachusetts. It is home to the Port of Boston, a major shipping facility in the northeast.-History:...
. The incident remains an iconic event of American history, and other political protests often refer to it.
The Tea Party was the culmination of a resistance movement throughout
British America
British America
For American people of British descent, see British American.British America is the anachronistic term used to refer to the territories under the control of the Crown or Parliament in present day North America , Central America, the Caribbean, and Guyana...
against the
Tea Act
Tea Act
The Tea Act was an Act of the Parliament of Great Britain. Its principal overt objective was to reduce the massive surplus of tea held by the financially troubled British East India Company in its London warehouses. A related objective was to undercut the price of tea smuggled into Britain's...
, which had been passed by the
British Parliament
Parliament of Great Britain
The Parliament of Great Britain was formed in 1707 following the ratification of the Acts of Union by both the Parliament of England and Parliament of Scotland...
in 1773.