 Book of Optics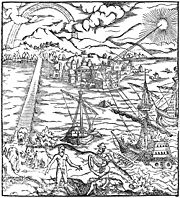 The
Book of Optics
is a seven-volume treatise on
optics
Optics
Optics is the branch of physics which involves the behavior and properties of light, including its interactions with matter and the construction of instruments that use or detect it. Optics usually describes the behavior of visible, ultraviolet, and infrared light...
and other fields of study composed by the medieval
Muslim
Muslim
A Muslim, also spelled Moslem, is an adherent of Islam, a monotheistic, Abrahamic religion based on the Quran, which Muslims consider the verbatim word of God as revealed to prophet Muhammad. "Muslim" is the Arabic term for "submitter" .Muslims believe that God is one and incomparable...
scholar Alhazen (965– c. 1040 AD).
See also
Science in medieval Islam