 Bombing of Frankfurt am Main in World War II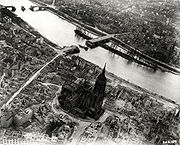 Bombing of Frankfurt am Main
by the
Allies of World War II
Allies of World War II
The Allies of World War II were the countries that opposed the Axis powers during the Second World War . Former Axis states contributing to the Allied victory are not considered Allied states...
killed about 5,500 residents and destroyed the largest medieval city centre in Germany (the
Eighth Air Force
Eighth Air Force
The Eighth Air Force is a numbered air force of the United States Air Force Global Strike Command . It is headquartered at Barksdale Air Force Base, Louisiana....
dropped 12,197 tons of explosives on the city).
Post-war
Post-war
A post-war period or postwar period is the interval immediately following the ending of a war and enduring as long as war does not resume. A post-war period can become an interwar period or interbellum when a war between the same parties resumes at a later date...
reconstruction generally used modern architecture, and a few landmark buildings were rebuilt in a simple historical style. The 1st building rebuilt was the 1789 Paulskirche (church of
[TBD

TBD

TBD is an abbreviation often meaning in ordinary writing "to be discussed" "to be done", "to be defined", "to be decided", "to be determined", etc...


]
).
valign=top style="background:silver" | Chronology
Date
Event
1942-12
Frankfurt was unsuccessfully bombed when bad weather prevented crews from hearing Sqn Ldr

Squadron Leader

Squadron Leader is a commissioned rank in the Royal Air Force and the air forces of many countries which have historical British influence. It is also sometimes used as the English translation of an equivalent rank in countries which have a non-English air force-specific rank structure. In these...


S. P. Daniels' on the standard-frequency radio equipment in the 1st Master Bomber mission (proposed by Air-Vice Marshal Don Bennett

Don Bennett

Air Vice Marshal Donald Clifford Tyndall Bennett CB CBE DSO RAF was an Australian aviation pioneer and bomber pilot who rose to be the youngest Air Vice-Marshal in the Royal Air Force. He led the "Pathfinder Force" from 1942 to the end of the Second World War in 1945...


on 22 December 1942--preceding the Operation Chastise

Operation Chastise

Operation Chastise was an attack on German dams carried out on 16–17 May 1943 by Royal Air Force No. 617 Squadron, subsequently known as the "Dambusters", using a specially developed "bouncing bomb" invented and developed by Barnes Wallis...


MB by 6 months.)
1944-01-29
Mission 24 daylight bombing of Frankfurt killed Princess Marie Alexandra of Baden

Princess Marie Alexandra of Baden

Princess Marie Alexandra of Baden was a Princess and Landgravine of Hesse and wife of the designated Crown Prince of Finland.-Family:...


.
1944-02-04
The 303 BG bombed the Frankfurt city area using PFF.
1944-02-11
The 303 BG attacked Frankfurthttp://www.usaaf-noseart.co.uk/misslist-31238.htm
1944-03-02
The 303 BG targeted Frankfurt's V.K.F. (Vereinigte Kugellagerfabriken) ball bearing plant, followed by the Berlin Erkner ball bearing works on 03-03 and 03-08.
1944-03-22
A night raid destroyed the old part of Frankfurt and killed over 1000 inhabitants, and the east port suffered major damage.

1945-01-08/09
De Havilland Mosquito

De Havilland Mosquito

The de Havilland DH.98 Mosquito was a British multi-role combat aircraft that served during the Second World War and the postwar era. It was known affectionately as the "Mossie" to its crews and was also nicknamed "The Wooden Wonder"...


s raided Frankfurt during the Battle of Berlin (air)

Battle of Berlin (air)

The Battle of Berlin was a British bombing campaign on Berlin from November 1943 – March 1944. The campaign was not limited solely to Berlin. Other German cities were attacked to prevent concentration of defences in Berlin, and Bomber Command had other responsibilities and operations to conduct...


.
The Municipal Library was hit during an air raid

Air raid

Air raid refers to an attack by aircraft. See strategic bombing or the smaller-scale airstrike.Air raid may also refer to:*Air Raid , by the improvisational collective Air...


, destroying its Cairo Genizah document collection and lists of the collection.