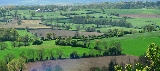 Bocage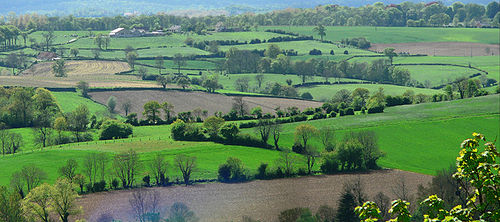 Bocage
is a
Norman
Norman language
Norman is a Romance language and one of the Oïl languages. Norman can be classified as one of the northern Oïl languages along with Picard and Walloon...
word which has entered both the French and English languages. It may refer to a small forest, a decorative element of leaves, a terrain of mixed woodland and pasture, or a type of rubble-work, comparable with the English use of 'rustic' in relation to garden ornamentation.
Etymology
Bocage probably derives from the Norman French word
boscage
, from the Old French root
bosc
("wood"), which today in place names is pronounced bɔk or [bo]. The
boscage
form was used in English for leafy decoration such as is found on eighteenth-century porcelain. Similar words occur in Scandinavian (cf. Swedish
buskage
) and other Germanic languages; the original root is thought to be the proto-German "bosk". The
boscage
form seems to have developed its meaning under the influence of eighteenth-century
romanticism
Romanticism
Romanticism was an artistic, literary and intellectual movement that originated in the second half of the 18th century in Europe, and gained strength in reaction to the Industrial Revolution...
.
The
bocage
form of the word came to English notice during the
Second World War
World War II
World War II, or the Second World War , was a global conflict lasting from 1939 to 1945, involving most of the world's nations—including all of the great powers—eventually forming two opposing military alliances: the Allies and the Axis...
. It refers to a terrain of mixed woodland and pasture, with fields and winding country lanes sunken between narrow low ridges and banks surmounted by tall thick hedgerows that break the wind but also limit visibility. It is the sort of landscape found in England in
Devon
Devon
Devon is a large county in southwestern England. The county is sometimes referred to as Devonshire, although the term is rarely used inside the county itself as the county has never been officially "shired", it often indicates a traditional or historical context.The county shares borders with...
. In
Normandy
Normandy
Normandy is a geographical region corresponding to the former Duchy of Normandy. It is in France.The continental territory covers 30,627 km² and forms the preponderant part of Normandy and roughly 5% of the territory of France. It is divided for administrative purposes into two régions:...
, it acquired a particular significance during the Battle of Normandy, as it made progress against the German defenders difficult. American personnel usually referred to bocage as "
hedge
Hedge
Hedge may refer to:* Hedge or hedgerow, line of closely spaced shrubs planted to act as a barrier* Hedge , investment made to limit loss* Hedge , intentionally non-committal or ambiguous sentence fragments-See also:...
rows".
The 1934
Nouveau Petit Larousse
defined
bocage
as 'a
bosquet
, a little wood, an agreeably shady wood' and a
bosquet
as a little wood, a clump of trees'. By 2006, the
Petit Larousse
definition had become '(Norman word) Region where the fields and meadows are enclosed by earth banks carrying hedges or rows of trees and where the habitation is generally
dispersed
Dispersed settlement
A dispersed settlement is one of the main types of settlement patterns used by landscape historians to classify rural settlements found in England and other parts of the world....
in farms and hamlets.'
Other uses
Bocage can also refer to:
Villers-Bocage

Villers-Bocage, Calvados

-External links:* *...



Manuel Maria Barbosa du Bocage

Manuel Maria Barbosa du Bocage

Manuel Maria Barbosa du Bocage was a Portuguese Neoclassic poet, writing under the pen name Elmano Sadino.-Biography:...


, Portuguese

Portuguese people

The Portuguese are a nation and ethnic group native to the country of Portugal, in the west of the Iberian peninsula of south-west Europe. Their language is Portuguese, and Roman Catholicism is the predominant religion....


poet

Poet

A poet is a person who writes poetry. A poet's work can be literal, meaning that his work is derived from a specific event, or metaphorical, meaning that his work can take on many meanings and forms. Poets have existed since antiquity, in nearly all languages, and have produced works that vary...


(1765–1805)
José Vicente Barbosa du Bocage

José Vicente Barbosa du Bocage

José Vicente Barbosa du Bocage was a Portuguese zoologist and politician. He was the curator of Zoology at the Museum of Natural History in Lisbon. He published numerous works on mammals, birds, and fishes. In the 1880s he became the Minister of the Navy and later the Minister for Foreign Affairs...


, Portuguese

Portuguese people

The Portuguese are a nation and ethnic group native to the country of Portugal, in the west of the Iberian peninsula of south-west Europe. Their language is Portuguese, and Roman Catholicism is the predominant religion....


zoologist and politician

Politician

A politician, political leader, or political figure is an individual who is involved in influencing public policy and decision making...


(1823–1907)