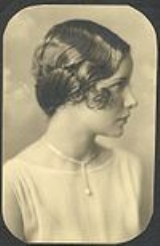 Bob cut
A "
bob cut
" is a short haircut for women (and occasionally men) in which the hair is typically cut straight around the head at about jaw-level, often with a
fringe
Fringe (hair)
Fringe are a shaped cutting of the front part of the hair so that it is combed forward and hangs or curls over the forehead. A classic fringe is cut fairly straight at or above the eyebrows, but fringes can also be ragged or ruffled, spiked up with hair gel, swept to one side or the other, and...
(or "bangs") at the front.
Historically, women in the west have usually worn their hair long. Although actresses and a few "advanced" or fashionable women had worn short hair even before
World War I
World War I
World War I , which was predominantly called the World War or the Great War from its occurrence until 1939, and the First World War or World War I thereafter, was a major war centred in Europe that began on 28 July 1914 and lasted until 11 November 1918...
,—for example in 1910 the French actress
Polaire
Polaire
Polaire was the stage name used by French singer and actress Émilie Marie Bouchaud .Born at Agha, Algiers, Algeria, according to her memoirs she was one of eleven children of whom only four - Emilie, her two brothers Edmond and Marcel, and a sister, Lucile - survived infancy...
,(right) is described as having "a shock of short, dark hair", a cut she appears to have adopted in the early 1890s—the style was not considered respectable until given impetus by the inconvenience of long hair to girls engaged in war work.