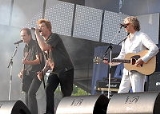 Bob Geldof
Robert Frederick Zenon "Bob" Geldof
,
KBE
Order of the British Empire
The Most Excellent Order of the British Empire is an order of chivalry established on 4 June 1917 by George V of the United Kingdom. The Order comprises five classes in civil and military divisions...
(born 5 October 1951) is an
Irish
Irish people
The Irish people are an ethnic group who originate in Ireland, an island in northwestern Europe. Ireland has been populated for around 9,000 years , with the Irish people's earliest ancestors recorded having legends of being descended from groups such as the Nemedians, Fomorians, Fir Bolg, Tuatha...
singer, songwriter, author, occasional actor and political activist. He rose to prominence as the lead singer of the Irish rock band
The Boomtown Rats
The Boomtown Rats
The Boomtown Rats were an Irish punk rock band that had a series of Irish and UK hits between 1977 and 1985. They were led by vocalist Bob Geldof.-Biography:All six members were originally from Dún Laoghaire, Ireland...
in the late 1970s and early 1980s alongside the
punk rock
Punk rock
Punk rock is a rock music genre that developed between 1974 and 1976 in the United States, the United Kingdom, and Australia. Rooted in garage rock and other forms of what is now known as protopunk music, punk rock bands eschewed perceived excesses of mainstream 1970s rock...
movement. The band had hits with his compositions "
Rat Trap
Rat Trap
"Rat Trap" was a single by The Boomtown Rats which reached #1 in the UK singles chart for two weeks in November 1978, the first single by a punk or new wave act to do so...
" and "I Don't Like Mondays". He co-wrote "
Do They Know It's Christmas?
Do They Know It's Christmas?
"Do They Know It's Christmas?" is a song written by Bob Geldof and Midge Ure in 1984 to raise money for relief of the 1984–1985 famine in Ethiopia. The original version was produced by Midge Ure and released by Band Aid on 29 November 1984....
", one of the
best-selling singles
of all time.
People are dying NOW. Give us the money NOW. Give me the money now.

Fuck the address, just give the phone, here's the number...

The quote many people remember incorrectly as "give us your fuckin' money"
I've just realized that today is the best day of my life. Now I'm going home to sleep.

People will always reach over the impenetrable roar of political discourse to help a human on the other side.

It was quite possible that even 17 hours of the Boomtown Rats might have been a little too much for me.

I actually didn't want him on the stage, 'cause his haircut at the time was so appalling.

On Bono's appearance at Live Aid.
98 per cent of the available television sets in the world were on this thing. I'd just been told that, so I did walk out with that sense that there's someone in Vladivostok, there's someone in Tierra del Fuego, there's someone in Shanghai or whatever watching this now. Here. Now. This moment. And everyone I'd probably ever said hello to as a kid was probably watching.

Not to be immodest, but the first one was perfect in almost every sense, ... Artistically, people seemed to up the ante, and the performances were pretty great across the board. Huge amounts of money were raised, not a penny lost, and politically it elevated the issue onto the global table. The whole thing just worked, unbelievably.

Don't let them tell us it doesn't work.

On group pressure
The boys and girls with guitars will finally get to turn the world on its axis.