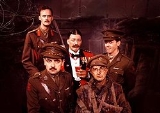 Blackadder
Blackadder
is the name that encompassed four series of a BBC1 historical
sitcom
British sitcom
A British sitcom tends, as it does in most other countries, to be based on a family, workplace or other institution, where the same group of contrasting characters is brought together in each episode. Unlike American sitcoms, where twenty or more episodes in a season is the norm, British sitcoms...
, along with several one-off instalments. All television programme episodes starred
Rowan Atkinson
Rowan Atkinson
Rowan Sebastian Atkinson is a British actor, comedian, and screenwriter. He is most famous for his work on the satirical sketch comedy show Not The Nine O'Clock News, and the sitcoms Blackadder, Mr. Bean and The Thin Blue Line...
as anti-hero
Edmund Blackadder
Edmund Blackadder
Edmund Blackadder is the single name given to a collection of fictional characters who appear in the BBC mock-historical comedy series Blackadder, each played by Rowan Atkinson. Although each series is set within a different period of British history, each character is part of the same familial...
and
Tony Robinson
Tony Robinson
Tony Robinson is an English actor, comedian, author, broadcaster and political campaigner. He is best known for playing Baldrick in the BBC television series Blackadder, and for hosting Channel 4 programmes such as Time Team and The Worst Jobs in History. Robinson is a member of the Labour Party...
as Blackadder's
dogsbody
Dogsbody
A dogsbody, or less commonly dog robber in the Royal Navy, is a junior officer, or more generally someone who does drudge work. A rough American equivalent would be a "gofer" or a "grunt", a "lackey", or "toady".-History:...
,
Baldrick
Baldrick
Baldrick is the name of several fictional characters featured in the long-running BBC historic comedy television series Blackadder. Each one serves as Edmund Blackadder's servant and sidekick and acts as a foil to the lead character...
. Each series was set in a different historical period with the two
protagonist
Protagonist
A protagonist is the main character of a literary, theatrical, cinematic, or musical narrative, around whom the events of the narrative's plot revolve and with whom the audience is intended to most identify...
s accompanied by different characters, though several reappear in one series or another, for example
Melchett
Melchett
Melchett is a family line of fictional characters appearing in the British television sitcom series Blackadder, played by Stephen Fry. There were two main Melchetts: Lord Melchett and General Melchett.- Blackadder II :...
and
Lord Flashheart
Lord Flashheart
Lord Flashheart is the name of two fictional characters who appeared in two episodes of the popular BBC sitcom Blackadder. They are both played by Rik Mayall....
.
The
first series
The Black Adder
The Black Adder is the first series of the BBC situation comedy Blackadder, written by Richard Curtis and Rowan Atkinson, directed by Martin Shardlow and produced by John Lloyd...
was written by Richard Curtis and Rowan Atkinson, while subsequent episodes were written by Curtis and
Ben Elton
Ben Elton
Benjamin Charles "Ben" Elton is an English comedian, author, playwright and director. He was a leading figure in the British alternative comedy movement of the 1980s, as a writer on such cult series as The Young Ones and Blackadder, as well as also a successful stand-up comedian on stage and TV....
.