 Black's Law Dictionary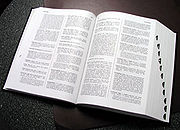 Black's Law Dictionary
is the most widely used
law dictionary
Law dictionary
A law dictionary is a dictionary that is designed and compiled to give information about terms used in the field of law.Nielsen 1994 discusses different types of law dictionaries. A distinction is made between different types of law dictionaries. A monolingual law dictionary covers one language, a...
in the
United States
United States
The United States of America is a federal constitutional republic comprising fifty states and a federal district...
. It was founded by
Henry Campbell Black
Henry Campbell Black
Henry Campbell Black was the founder of Black's Law Dictionary, the definitive legal dictionary first published in 1891....
. It is the reference of choice for definitions in
legal briefs
Brief (law)
A brief is a written legal document used in various legal adversarial systems that is presented to a court arguing why the party to the case should prevail....
and
court opinions
Legal opinion
In law, an opinion is usually a written explanation by a judge or group of judges that accompanies an order or ruling in a case, laying out the rationale and legal principles for the ruling....
and has been cited as a
secondary legal authority
Secondary authority
In law, a secondary authority is an authority purporting to explain the meaning or applicability of the actual verbatim texts of primary authorities .Some secondary authority materials are written and published by governments to explain the laws in simple,...
in many
U.S. Supreme Court
Supreme Court of the United States
The Supreme Court of the United States is the highest court in the United States. It has ultimate appellate jurisdiction over all state and federal courts, and original jurisdiction over a small range of cases...
cases.
The latest editions, including abridged and pocket versions, are useful starting points for the
layman
Layman
A layperson or layman is a person who is not an expert in a given field of knowledge. The term originally meant a member of the laity, i.e. a non-clergymen, but over the centuries shifted in definition....
or student when faced with an unfamiliar legal word.
History
The first edition was published in 1891, and the second edition in 1910. The sixth and earlier editions of the book also provided case citations for the term cited, which some lawyers view as its most useful feature, providing a useful starting point with leading cases. The Internet made legal research easier than it ever had been, so many state- or circuit-specific case citations and outdated or overruled case citations were dropped from the seventh edition in 1999. The eighth edition introduced a unique system of perpetually updated case citations and cross-references to legal encyclopedias. The ninth edition was published in the summer of 2009.
Because many legal terms are derived from a
Latin
Latin
Latin is an Italic language originally spoken in Latium and Ancient Rome. It, along with most European languages, is a descendant of the ancient Proto-Indo-European language. Although it is considered a dead language, a number of scholars and members of the Christian clergy speak it fluently, and...
root word, the Dictionary gives a pronunciation guide for such terms. In addition, the applicable entries provide pronunciation transcriptions pursuant to those found among North American practitioners of law or medicine.
Availability
An online version of the latest edition can be accessed through the paid
Westlaw
Westlaw
Westlaw is one of the primary online legal research services for lawyers and legal professionals in the United States and is a part of West. In addition, it provides proprietary database services...
legal information service and as of late 2006, West Academic has published Black's Law Dictionary Digital, 8th edition (ISBN 9780314176103) which has toolbars that integrate with
Microsoft Word
Microsoft Word
Microsoft Word is a word processor designed by Microsoft. It was first released in 1983 under the name Multi-Tool Word for Xenix systems. Subsequent versions were later written for several other platforms including IBM PCs running DOS , the Apple Macintosh , the AT&T Unix PC , Atari ST , SCO UNIX,...
,
Mozilla Firefox
Mozilla Firefox
Mozilla Firefox is a free and open source web browser descended from the Mozilla Application Suite and managed by Mozilla Corporation. , Firefox is the second most widely used browser, with approximately 25% of worldwide usage share of web browsers...
and
Internet Explorer
Internet Explorer
Windows Internet Explorer is a series of graphical web browsers developed by Microsoft and included as part of the Microsoft Windows line of operating systems, starting in 1995. It was first released as part of the add-on package Plus! for Windows 95 that year...
. The second edition of
Black's Law Dictionary
(1910) is now in the
public domain
Public domain
Works are in the public domain if the intellectual property rights have expired, if the intellectual property rights are forfeited, or if they are not covered by intellectual property rights at all...
. The Lawbook Exchange, Ltd. has reprinted the first and second editions (ISBN 0-9630106-0-3 and ISBN 1-886363-10-2, respectively).
As of 2009 it is available as an Apple iPhone, iPod Touch and iPad application. Other mobile applications include
BlackBerry
BlackBerry
BlackBerry is a line of mobile email and smartphone devices developed and designed by Canadian company Research In Motion since 1999.BlackBerry devices are smartphones, designed to function as personal digital assistants, portable media players, internet browsers, gaming devices, and much more...
and Android.
Non-English versions
Āqā'ī, Bahman. Farhang-i ḥuqūqī-i Bahman : Ingilīsī-Fārsī : bar asās-i Black's law dictionary (1999) (Fārsī)
Muqtadirah-yi Qaumī Zabān. Qānūnī, Angrezī-Urdu lug̲h̲at : Blaiks lā' dikshanarī se māk̲h̲ūz (Based on Black's law dictionary) / nigrān, Fatiḥ Muḥammad Malik (2002) (Urdu) ISBN 9694740843
External links