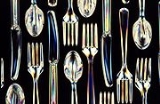 Bioplastic
Bioplastics
are a form of
plastic
Plastic
A plastic material is any of a wide range of synthetic or semi-synthetic organic solids used in the manufacture of industrial products. Plastics are typically polymers of high molecular mass, and may contain other substances to improve performance and/or reduce production costs...
s derived from renewable
biomass
Biomass
Biomass, as a renewable energy source, is biological material from living, or recently living organisms. As an energy source, biomass can either be used directly, or converted into other energy products such as biofuel....
sources, such as
vegetable fats and oils
Vegetable fats and oils
Vegetable fats and oils are lipid materials derived from plants. Physically, oils are liquid at room temperature, and fats are solid. Chemically, both fats and oils are composed of triglycerides, as contrasted with waxes which lack glycerin in their structure...
, corn starch,
pea
Pea
A pea is most commonly the small spherical seed or the seed-pod of the pod fruit Pisum sativum. Each pod contains several peas. Peapods are botanically a fruit, since they contain seeds developed from the ovary of a flower. However, peas are considered to be a vegetable in cooking...
starch
Starch
Starch or amylum is a carbohydrate consisting of a large number of glucose units joined together by glycosidic bonds. This polysaccharide is produced by all green plants as an energy store...
, or
microbiota
Microbiota
Microbiota is a monotypic] genus of evergreen coniferous shrub in the cypress family Cupressaceae, containing only one species, Microbiota decussata...
, rather than fossil-fuel plastics which are derived from
petroleum
Petroleum
Petroleum or crude oil is a naturally occurring, flammable liquid consisting of a complex mixture of hydrocarbons of various molecular weights and other liquid organic compounds, that are found in geologic formations beneath the Earth's surface. Petroleum is recovered mostly through oil drilling...
. Some, but not all, bioplastics are designed to
biodegrade
Biodegradation
Biodegradation or biotic degradation or biotic decomposition is the chemical dissolution of materials by bacteria or other biological means...
.
Biodegradable bioplastics are used for disposable items, such as packaging and catering items (crockery, cutlery, pots, bowls, straws). Biodegradable bioplastics are also often used for organic waste bags, where they can be
compost
Compost
Compost is organic matter that has been decomposed and recycled as a fertilizer and soil amendment. Compost is a key ingredient in organic farming. At its most essential, the process of composting requires simply piling up waste outdoors and waiting for the materials to break down from anywhere...
ed together with the food or green waste.