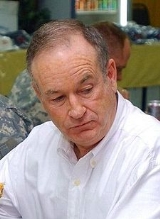 Bill O'Reilly (commentator)
William James "Bill" O'Reilly, Jr.
(born September 10, 1949) is an American
television host
Presenter
A presenter, or host , is a person or organization responsible for running an event. A museum or university, for example, may be the presenter or host of an exhibit. Likewise, a master of ceremonies is a person that hosts or presents a show...
, author,
syndicated columnist
Syndicated columnist
This list of syndicated columnists comprises columnists whose recurring columns are published in multiple periodical publications .*Ghaith Abdul-Ahad*Yasmin Alibhai-Brown*Timothy Garton Ash*Lucius Beebe*Max Boot...
and political commentator. He is the host of the
political commentary
Cable television
Cable television is a system of providing television programs to consumers via radio frequency signals transmitted to televisions through coaxial cables or digital light pulses through fixed optical fibers located on the subscriber's property, much like the over-the-air method used in traditional...
program
The O'Reilly Factor
The O'Reilly Factor
The O'Reilly Factor, originally titled The O'Reilly Report from 1996 to 1998 and often called The Factor, is an American talk show on the Fox News Channel hosted by commentator Bill O'Reilly, who often discusses current controversial political issues with guests.The program was the most watched...
on the
Fox News Channel
Fox News Channel
Fox News Channel , often called Fox News, is a cable and satellite television news channel owned by the Fox Entertainment Group, a subsidiary of News Corporation...
, which is the most watched
cable news
United States cable news
Cable news refers to television channels devoted to television news broadcasts, with the name deriving from the proliferation of such networks during the 1980s with the advent of cable television. In the United States, early networks included CNN in 1980, Financial News Network in 1981, and CNN2 ...
television program on American television. During the late 1970s and 1980s, he worked as a news reporter for various local television stations in the United States and eventually for
CBS News
CBS News
CBS News is the news division of American television and radio network CBS. The current chairman is Jeff Fager who is also the executive producer of 60 Minutes, while the current president of CBS News is David Rhodes. CBS News' flagship program is the CBS Evening News, hosted by the network's main...
and
ABC News
ABC News
ABC News is the news gathering and broadcasting division of American broadcast television network ABC, a subsidiary of The Walt Disney Company...
.
I couldn't get over the fact that there was no difference between Sylvia's Restaurant and any other restaurant in New York City. I mean, it was exactly the same, even though it's run by blacks. Especially the black patrons: there wasn't one person shouting, "Hey, m'fer, I want more iced tea."

on his meal with Al Sharpton at Sylvia's in Harlem; The O'Reilly Factor, 9-24-07
CNN has gone to the dark side.

in response to CNN's playing a tape of his surprise at Sylvia's Restaurant being like "any other restaurant in New York"; The O'Reilly Factor, 9-25-07
I just wish Katrina had only hit the United Nations building, nothing else, just had flooded them out, and I wouldn't have rescued them."

The Radio Factor|The Radio Factor, 14 September 2005
Like a brain surgeon who drinks a martini when he's not on call, the successful kids in your school may smoke pot on occasion, but they are not stoners

O'Reilly Factor for Kids (2004), page 67
I was wrong. I am not pleased about it at all and I think all Americans should be concerned about this… What do you want me to do, go over and kiss the camera?

In response to a request to make good on his 18 March 2003 promise to publicly apologize if weapons of mass destruction were not found in Iraq