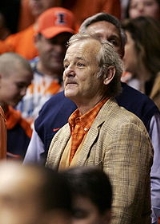 Bill Murray
William James
"
Bill
"
Murray
(born September 21, 1950) is an American
actor
Actor
An actor is a person who acts in a dramatic production and who works in film, television, theatre, or radio in that capacity...
and
comedian
Comedian
A comedian or comic is a person who seeks to entertain an audience, primarily by making them laugh. This might be through jokes or amusing situations, or acting a fool, as in slapstick, or employing prop comedy...
. He first gained national exposure on
Saturday Night Live
Saturday Night Live
Saturday Night Live is a live American late-night television sketch comedy and variety show developed by Lorne Michaels and Dick Ebersol. The show premiered on NBC on October 11, 1975, under the original title of NBC's Saturday Night.The show's sketches often parody contemporary American culture...
in which he earned an
Emmy Award
Emmy Award
An Emmy Award, often referred to simply as the Emmy, is a television production award, similar in nature to the Peabody Awards but more focused on entertainment, and is considered the television equivalent to the Academy Awards and the Grammy Awards .A majority of Emmys are presented in various...
and later went on to star in a number of critically and commercially successful comedic films, including
Caddyshack
Caddyshack
Caddyshack is a 1980 American comedy film directed by Harold Ramis and written by Brian Doyle-Murray, Ramis, and Douglas Kenney. It stars Chevy Chase, Rodney Dangerfield, Ted Knight, Michael O'Keefe, Cindy Morgan, and Bill Murray...
(1980),
Ghostbusters
Ghostbusters
Ghostbusters is a 1984 American science fiction comedy film directed by Ivan Reitman and written by Dan Aykroyd and Harold Ramis. The film stars Bill Murray, Dan Aykroyd, Sigourney Weaver, Harold Ramis, and Rick Moranis and follows three eccentric parapsychologists in New York City, who start a...
(1984), and
Groundhog Day
Groundhog Day (film)
Groundhog Day is a 1993 American comedy film directed by Harold Ramis, starring Bill Murray and Andie MacDowell. It was written by Ramis and Danny Rubin, based on a story by Rubin....
(1993). Murray gained additional critical acclaim later in his career, starring in
Lost in Translation
Lost in Translation (film)
Lost in Translation is a 2003 American film written and directed by Sofia Coppola; her second feature film after The Virgin Suicides and it stars Bill Murray and Scarlett Johansson...
(2003), that gave him an
Academy Award for Best Actor
Academy Award for Best Actor
Performance by an Actor in a Leading Role is one of the Academy Awards of Merit presented annually by the Academy of Motion Picture Arts and Sciences to recognize an actor who has delivered an outstanding performance while working within the film industry...
nomination, and a series of films directed by
Wes Anderson
Wes Anderson
Wesley Wales Anderson is an American film director, screenwriter, actor, and producer of features, short films and commercials....
, including
Rushmore
Rushmore (film)
Rushmore is a 1998 comedy-drama film directed by Wes Anderson about an eccentric teenager named Max Fischer , his friendship with rich industrialist Herman Blume , and their mutual love for elementary school teacher Rosemary Cross . The film was co-written by Anderson and Owen Wilson...
(1998),
The Royal Tenenbaums
The Royal Tenenbaums
The Royal Tenenbaums is a 2001 American comedy-drama film directed by Wes Anderson and co-written with Owen Wilson. The film stars Gene Hackman and Anjelica Huston, with Danny Glover, Bill Murray, Gwyneth Paltrow, Ben Stiller, Luke Wilson, and Owen Wilson....
(2001),
The Life Aquatic with Steve Zissou
The Life Aquatic with Steve Zissou
The Life Aquatic with Steve Zissou is an American comedy-drama film directed, written, and co-produced by Wes Anderson. It is Anderson's fourth feature length film, released in the U.S. on December 25, 2004...
(2004) and
Fantastic Mr. Fox
Fantastic Mr. Fox (film)
Fantastic Mr. Fox is a 2009 American stop-motion animated film based on the Roald Dahl children's novel of the same name. This story is about a fox who steals food each night from three mean and wealthy farmers. The farmers are fed up with Mr Fox's theft and try to kill him, so they dig their way...
(2009).
Murray was born and raised in
Wilmette, Illinois
Wilmette, Illinois
Wilmette is a village in New Trier Township, Cook County, Illinois, United States. It is located north of Chicago's downtown district and has a population of 27,651. Wilmette is considered a bedroom community in the North Shore district...
, a northern suburb of
Chicago
Chicago
Chicago is the largest city in the US state of Illinois. With nearly 2.7 million residents, it is the most populous city in the Midwestern United States and the third most populous in the US, after New York City and Los Angeles...
, the son of Lucille (
née
Married and maiden names
A married name is the family name adopted by a person upon marriage. When a person assumes the family name of her spouse, the new name replaces the maiden name....
Collins), a mail room clerk, and Edward Joseph Murray II, a
lumber
Lumber
Lumber or timber is wood in any of its stages from felling through readiness for use as structural material for construction, or wood pulp for paper production....
salesman.
I don't know what my fans are going to think. It's definitely not what they're used to from me.

On his starring role in the drama The Razor's Edge (1984 film)|The Razor's Edge, as quoted in Stills Magazine (1984)