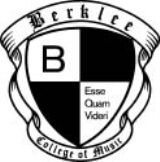 Berklee College of Music
Berklee College of Music
, located in Boston, Massachusetts, is the largest independent college of contemporary music in the world. Known primarily as a school for
jazz
Jazz
Jazz is a musical style that originated at the beginning of the 20th century in African American communities in the Southern United States. It was born out of a mix of African and European music traditions. From its early development until the present, jazz has incorporated music from 19th and 20th...
,
rock
Rock music
Rock music is a genre of popular music that developed during and after the 1960s, particularly in the United Kingdom and the United States. It has its roots in 1940s and 1950s rock and roll, itself heavily influenced by rhythm and blues and country music...
and popular music, it also offers college-level courses in a wide range of contemporary and historic styles, including
hip hop
Hip hop music
Hip hop music, also called hip-hop, rap music or hip-hop music, is a musical genre consisting of a stylized rhythmic music that commonly accompanies rapping, a rhythmic and rhyming speech that is chanted...
,
reggae
Reggae
Reggae is a music genre first developed in Jamaica in the late 1960s. While sometimes used in a broader sense to refer to most types of Jamaican music, the term reggae more properly denotes a particular music style that originated following on the development of ska and rocksteady.Reggae is based...
,
salsa
Salsa music
Salsa music is a genre of music, generally defined as a modern style of playing Cuban Son, Son Montuno, and Guaracha with touches from other genres of music...
, and
bluegrass
Bluegrass music
Bluegrass music is a form of American roots music, and a sub-genre of country music. It has mixed roots in Scottish, English, Welsh and Irish traditional music...
.
Berklee College of Music is accredited by the
New England Association of Schools and Colleges
New England Association of Schools and Colleges
The New England Association of Schools and Colleges, Inc. is the U.S. regional accreditation association providing educational accreditation for all levels of education, from pre-kindergarten to the doctoral level, in the six-state New England region. It also provides accreditation for some...
(NEASC). NEASC is the regional accreditation agency for schools and colleges located in the New England region of the United States.
In 1945, pianist-composer-arranger and MIT graduate
Lawrence Berk
Lawrence Berk
Lawrence Berk was the founder of Berklee College of Music, a pianist, composer and arranger, and educator.Berk oversaw the growth of the modest Schillinger House music school into the Berklee College of Music, the largest independent school of music in the world...
founded Schillinger House, the precursor to the Berklee School of Music.