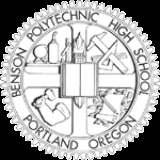 Benson Polytechnic High School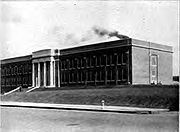 Benson Polytechnic High School
is a
technical
Technical school
Technical school is a general term used for two-year college which provide mostly employment-preparation skills for trained labor, such as welding, culinary arts and office management.-Associations supporting technical schools:...
public high school in the Portland Public Schools district. Its 9 acres (36,421.7 m²) campus is located in the center of
Portland
Portland, Oregon
Portland is a city located in the Pacific Northwest, near the confluence of the Willamette and Columbia rivers in the U.S. state of Oregon. As of the 2010 Census, it had a population of 583,776, making it the 29th most populous city in the United States...
's Eastside commercial area. Students are given a special emphasis in a technical area. It is a member of
SkillsUSA
SkillsUSA
SkillsUSA is a United States career and technical student organization serving more than 320,000 high school and college students and professional members enrolled in training programs in technical, skilled, and service occupations, including health occupations. Since 2010, SkillsUSA has had Thomas...
and Health Occupations Students of America.
Benson's predecessor
Benson Polytechnic High School began in 1908 as the Portland School of Trades in the Atkinson Building at 11th and Davis in Northwest Portland. It was established to give "boys who wished to enter a trade a better opportunity than do shops and factories of the present time." Any boy from Portland who was at least fourteen years old, or who was a grammar school graduate, could attend. The course of study was three years. Students could also attend night school and/or summer sessions at the trade school.
In 1909, a course of study for girls was added, with classes in sewing, cooking, millinery, and homemaking. The Portland School of Trades was coeducational until 1913 when the girls' departments were moved to the original Lincoln High School.
Beginnings and the First World War
The Portland School Board voted to change the school's name to Benson Polytechnic High School after civic leader and philanthropist
Simon Benson
Simon Benson
Simon Benson was a noted businessman and philanthropist from Portland, Oregon.-Background:Simon Benson was born Simon Iversen in Norway, one of seven children in the Berger Iversen family. His eldest brother Jon immigrated to the United States in 1861, followed by his sister Mathea in 1865...
gave $100,000 in 1915, with a stipulation that at least the same amount of money be spent by the Portland School District to start the school. Six blocks of land at Northeast 12th and Hoyt were purchased and a building was built, and the new Benson Polytechnic School opened its doors on September 4, 1917. The building was designed by
Floyd Naramore
Floyd Naramore
Floyd A. Naramore was a Seattle architect. He was Seattle Schools Architect from 1919 to 1932, and he was a founding partner, in 1943, of the firm that today is known as NBBJ....
.
Portable classroom
Portable classroom
A portable classroom A portable classroom A portable classroom (in Australian English a demountable and often referred to as a demountable, a "Terrapin" or a "Portakabin" (after the two companies) in the UK and called a prefab in Ireland (not to be confused with a prefabricated building) is a...
s were required early on and were still used into the 1950s.
Mr. Benson gave the student body $10,000 during World War I, and the first Tech Show was presented to the Portland community. Benson Polytechnic School grew rapidly in course offerings and in student population. In 1920, the printing department was set up and the school paper, the Tech Pep. was published.
In 1926, an aviation department was added to the school.
Benson Polytechnic School served not only the educational needs of the city's youth, but also the defense needs of a nation at war. Beginning in 1919 (during
World War I
World War I
World War I , which was predominantly called the World War or the Great War from its occurrence until 1939, and the First World War or World War I thereafter, was a major war centred in Europe that began on 28 July 1914 and lasted until 11 November 1918...
) the federal government contracted with the school, and 50 disabled soldiers were educated.
KBPS radio
In May 1921 the Benson Tech Radio Club received a government license to operate telegraph station 7YK, later changing the
call sign
Call sign
In broadcasting and radio communications, a call sign is a unique designation for a transmitting station. In North America they are used as names for broadcasting stations...
to 7XAD in October 1923. This would lead to Benson's first broadcasting station on May 4, 1923 at 6:00 PM when station KFIF signed on the air. This was only the second radio station operated by an educational institute.
KFIF would become KBPS on March 17, 1930 when KFIF became too expensive for the student body to operate, the District accepted ownership of the station. The station was renamed KBPS (for Benson Polytechnic School) and has continued to this day to operate on the Benson campus and to be staffed by Benson students.
Expansion and the Second World War
By 1940, Benson had 2,800 students and was the largest school in Portland.
Due to the
baby boom
Baby boom
A baby boom is any period marked by a greatly increased birth rate. This demographic phenomenon is usually ascribed within certain geographical bounds and when the number of annual births exceeds 2 per 100 women...
and passing of a $25 million building levy by the school district in 1947, 29 portables dating back to World War I were scheduled for replacement.
Modern times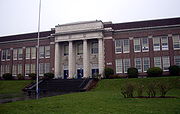 In 1953, the Portland School Board launched a five-year building program to upgrade Benson. A library and automotive wing were completed in 1954. The north shop wing was remodeled in 1955 and the south shop wing in 1960. Benson became co-educational once again in September 1973. Six females attended that year. When the health occupations program was moved from Washington High School to Benson in 1980, Benson's female population grew substantially.
An arsonist's fire damaged offices and classrooms in the main section of Benson on January 2, 1991. Coincidentally, the School Board had already scheduled the Benson facility for major improvements. In 1991, a new health occupation wing, a new library, a new student services center, and a new band room were added; and halls and offices were modernized.
In December 2009, a Spanish language teacher, Zuleyma Fernanda Figueroa, was arrested for selling
methamphetamine
Methamphetamine
Methamphetamine is a psychostimulant of the phenethylamine and amphetamine class of psychoactive drugs...
out of her home. She had been placed on unpaid leave by Portland Public Schools, and pled guilty to delivering methamphetamine.
Academics
In 2008, 88% of the school's seniors received their
high school diploma
High school diploma
A high school diploma is a diploma awarded for the completion of high school. In the United States and Canada, it is considered the minimum education required for government jobs and higher education. An equivalent is the GED.-Past diploma styles:...
. Of 271 students, 239 graduated, 27 dropped out, and 5 are still in high school.
Oregon moved to the Cohort Systemthe next year to identify graduates, which yields a lower rate than years previous. 76% of students graduated Benson in 2009, which is higher than the district average of 66%. Benson is the only school in the Portland Public School district to graduate more minorities than white students..
Student profile
As a
magnet school
Magnet school
In education in the United States, magnet schools are public schools with specialized courses or curricula. "Magnet" refers to how the schools draw students from across the normal boundaries defined by authorities as school zones that feed into certain schools.There are magnet schools at the...
, Benson is highly selective among the Portland area. Until recently, students were required to complete an application for admissions. This is no longer the case due to the requirements of the
No Child Left Behind Act
No Child Left Behind Act
The No Child Left Behind Act of 2001 is a United States Act of Congress concerning the education of children in public schools.NCLB was originally proposed by the administration of George W. Bush immediately after he took office...
; instead a lottery is used to determine which students are admitted. As of Fall 2008, there were 1134 students enrolled in Benson, and 61.7% qualified for free or reduced lunch.
The student population is 28% African American, 25% white, 23% Asian/Pacific Islander, and 20% Latino.
Curriculum
In addition to a standard high school curriculum, students specialize in a self-selected major during the final two years of enrollment. Students may specialize in the following areas, provided by a partnership with
SkillsUSA
SkillsUSA
SkillsUSA is a United States career and technical student organization serving more than 320,000 high school and college students and professional members enrolled in training programs in technical, skilled, and service occupations, including health occupations. Since 2010, SkillsUSA has had Thomas...
and Health Occupations Students of America (HOSA):
Arts & Communications Academy

Communications Technology
KBPS Radio Broadcasting

Health Occupations Academy

Dental Assisting
Medical Assisting
Nursing Assisting

Industry & Engineering Academy

Automotive Technology
Building Construction Technology
Electrical Technology
Manufacturing Technology
Homebuilding program
Benson is one of three Portland-area high schools (as well as
Canby High School
Canby High School
-Academics:In 2008, 86% of the school's seniors received their high school diploma. Of 395 students, 338 graduated, 37 dropped out, 1 received a modified diploma, and 19 are still in high school.-Homebuilding program:...
and
Forest Grove High School
Forest Grove High School
Forest Grove High School is a public high school in Forest Grove, Oregon, United States. It is the only high school in the Forest Grove School District.-Students:...
) that builds a single-family home in the community.

Notable alumni
Tom Dodd

Tom Dodd

Thomas Marion Dodd is a former Major League Baseball player. He is likely best remembered for being one of the players included in the deal that brought Fred McGriff to the Toronto Blue Jays as a minor league prospect.-Yankee farmhand:...


, Major League Baseball

Major League Baseball

Major League Baseball is the highest level of professional baseball in the United States and Canada, consisting of teams that play in the National League and the American League...



Jim Elliot

Jim Elliot

Philip James Elliot was an evangelical Christian who was one of five missionaries killed while participating in Operation Auca, an attempt to evangelize the Waodani people of Ecuador.-Early life:...


, evangelical Christian killed in Ecuador on mission work.
A. C. Green

A. C. Green

A.C. Green, Jr., is a retired American NBA basketball player who played in more consecutive games than any other player in NBA and ABA history. With 1,192 straight games played, he earned the nickname "Iron Man". He played for the Los Angeles Lakers, Phoenix Suns, Dallas Mavericks and Miami Heat...


, NBA
Mfon Udoka

Mfon Udoka

Mfon Sunday Udoka is a Nigerian American professional basketball player and the new Assistant Coach of the Nigeria women's national basketball team the Lady Tigers. Udoka graduated from Benson Polytechnic High School in Portland before attending DePaul University in Chicago, Illinois from 1994-98...


, Nigerian Olympian

Nigeria at the 2004 Summer Olympics

- Bronze:* Olusoji Fasuba, Deji Aliu, Aaron Egbele, and Uchenna Emedolu — Athletics, Men's 4 x 100 m relay* Saul Weigopwa, Musa Audu, James Godday, and Enefiok Udo-Obong — Athletics, Men's 4 x 400 m relay-Athletics:...



Richard Washington

Richard Washington

Richard Lee Washington is a retired American professional basketball player.A 6'11" center, Washington played high school ball at Benson Tech in Portland, Oregon before starring at UCLA in the 1970s, where he was named NCAA Basketball Tournament Most Outstanding Player following UCLA's 1975...


, NBA, Milwaukee Bucks

Milwaukee Bucks

The Milwaukee Bucks are a professional basketball team based in Milwaukee, Wisconsin, United States. They are part of the Central Division of the Eastern Conference in the National Basketball Association . The team was founded in 1968 as an expansion team, and currently plays at the Bradley Center....



Kim Rhodes

Kim Rhodes

Kimberly "Kim" Rhodes is an American actress, who portrayed the role of "Cindy Harrison" on two different soap opera series, Another World and As the World Turns, as well as Carey Martin in the Disney Channel sitcom The Suite Life of Zack & Cody and The Suite Life on Deck, where she played the...


, actor
Joel David Moore, actor
Alex Nimo

Alex Nimo

Alex Nimo is a Liberian-born American soccer player who last played for Real Salt Lake of Major League Soccer.-Early life:...


, USSF Division 2 Professional League

USSF Division 2 Professional League

USSF Division 2 Professional League was a temporary professional soccer league created by the United States Soccer Federation in 2010 to last just one season. The twelve-team league was formed as a compromise between the feuding United Soccer Leagues and the North American Soccer League...


, Portland Timbers (USL)

Portland Timbers (USL)

Portland Timbers was an American professional soccer team based in Portland, Oregon, United States. Founded in 2001, the team played in various leagues at the second tier of the American Soccer Pyramid, including the USL First Division and the USSF Division 2 Professional League, until the end of...



External links