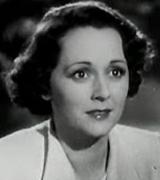 Benita Hume
Benita Hume
was an English film actress. She appeared in 44 films between 1925 and 1955.
She was married to actor
Ronald Colman
Ronald Colman
Ronald Charles Colman was an English actor.-Early years:He was born in Richmond, Surrey, England, the second son and fourth child of Charles Colman and his wife Marjory Read Fraser. His siblings included Eric, Edith, and Marjorie. He was educated at boarding school in Littlehampton, where he...
from 1938 to his death in 1958; they were the parents of a daughter, Juliet. She starred with Colman in both versions of the
situation comedy
Situation comedy
A situation comedy, often shortened to sitcom, is a genre of comedy that features characters sharing the same common environment, such as a home or workplace, accompanied with jokes as part of the dialogue...
The Halls of Ivy
The Halls of Ivy
The Halls of Ivy is an NBC radio sitcom that ran from 1950-1952. It was created by Fibber McGee & Molly co-creator/writer Don Quinn before being adapted into a CBS television comedy produced by ITC Entertainment and Television Programs of America...
, an NBC Radio program (1949–1952) and a CBS Television show (1954–1955). She also made occasional guest appearances with her husband on
The Jack Benny Show
on radio, where the Colmans were portrayed as Benny's long-suffering next-door neighbors. She was also married to actor
George Sanders
George Sanders
George Sanders was a British actor.George Sanders may also refer to:*George Sanders , Victoria Cross recipient in World War I...
from 1959 to her death in 1967. She died in
Egerton, Kent
Egerton, Kent
Egerton is a village and civil parish in the Ashford District of Kent, England. The village is located on the Greensand Ridge 9 miles north of Ashford. The parish is a scattered rural one; the settlement of Stonebridge Green, adjacent to Egerton, is also in the parish.The 13th century parish...
,
England
England
England is a country that is part of the United Kingdom. It shares land borders with Scotland to the north and Wales to the west; the Irish Sea is to the north west, the Celtic Sea to the south west, with the North Sea to the east and the English Channel to the south separating it from continental...
from bone cancer at age 61.
Filmography
The Happy Ending

The Happy Ending (1925 film)

The Happy Ending is a 1925 British silent drama film directed by George A. Cooper and starring Fay Compton, Jack Buchanan and Joan Barry. It was based on a play by Ian Hay. A father who deserted his family some years before returns home only to find his wife has told his children and neighbours...


(1925)
Second to None

Second to None (film)

Second to None is a 1927 British silent war film directed by Jack Raymond and starring Moore Marriott, Ian Fleming and Benita Hume. A Naval family comes under strain when their son goes absent without leave to settle a domestic problem with his wife.-Cast:...


(1927)
The Constant Nymph

The Constant Nymph (1928 film)

The Constant Nymph is a 1928 British silent film drama, directed by Adrian Brunel and starring Ivor Novello and Mabel Poulton. This was the first film adaptation of the 1924 best-selling and controversial novel of the same name by Margaret Kennedy...


(1928

1928 in film

-Events:Although some movies released in 1928 had sound, most were still silent.* July 28 - Lights of New York is released by Warner Brothers. It is the first "100% Talkie" feature film, in that dialog is spoken throughout the film...


)
Easy Virtue (1928)
High Treason

High Treason (1928 film)

High Treason is a 1929 film based on a play by Noel Pemberton Billing. It was directed by Maurice Elvey, and stars James Carew, Humberstone Wright, Benita Hume, Henry Vibart, Hayford Hobbs, Irene Rooke and Jameson Thomas. Raymond Massey makes his first screen appearance in a small role...


(1928)
The Lady of the Lake

The Lady of the Lake (film)

The Lady of the Lake is a 1928 British romance film directed by James A. FitzPatrick and starring Percy Marmont, Benita Hume and Lawson Butt.-Cast:* Percy Marmont - James FitzJames* Benita Hume - The Lady of the Lake* Lawson Butt - Roderick Dhu...


(1928)
A Light Woman

A Light Woman (1928 film)

A Light Woman is a 1928 British silence romance film directed by Adrian Brunel and starring Benita Hume, C.M. Hallard and Gerald Ames. It is also known by the alternative title Dolores. A flighty young woman learns the error of her ways through a series of love affairs. It was based on a story by...


(1928)
A South Sea Bubble

A South Sea Bubble

A South Sea Bubble is a 1928 British comedy film directed by T. Hayes Hunter and starring Ivor Novello, Benita Hume and Alma Taylor. A group of adventurers head to the Pacific Ocean to hunt for buried treasure.-Cast:* Ivor Novello ... Vernon Winslow...


(1928)
Balaclava

Balaclava (film)

Balaclava is a 1928 British war film directed by Maurice Elvey and Milton Rosmer and starring Cyril McLaglen, Benita Hume, Alf Goddard, Harold Huth and Wally Patch. A British army officer is cashiered, and re-enlists as Private to take part in the Crimean War and succeeds in capturing a top Russian...


(1928)
The Clue of the New Pin

The Clue of the New Pin (1929 film)

The Clue of the New Pin is a British crime film directed by Arthur Maude and starring Benita Hume, Kim Peacock, and Donald Calthrop. The film was one of the few filmed in British Phototone, a sound-on-disc system which used 12-inch discs...


(1929)
The Wrecker

The Wrecker (1928 film)

The Wrecker is a 74 minute silent film made in 1928 . The film was based on the play of the same title by Arnold Ridley. It was produced by Michael Balcon for Gainsborough Pictures, directed by Hungarian Géza von Bolváry and starred Carlyle Blackwell, Joseph Striker and Benita Hume. A...


(1929

1929 in film

-Events:The days of the silent film are numbered. A mad scramble to provide synchronized sound is on.*January 20 - The movie In Old Arizona is released. The film is the first full-length talking film to be filmed outdoors....


)
Symphony in Two Flats

Symphony in Two Flats

Symphony in Two Flats is a 1930 British drama film directed by Gareth Gundrey and starring Ivor Novello, Benita Hume, Jacqueline Logan and Cyril Ritchard. It was an adaptation of a play written by Novello...


(1930)
The House of the Arrow

The House of the Arrow (1930 film)

The House of the Arrow is a 1930 British mystery film directed by Leslie S. Hiscott and starring Dennis Neilson-Terry, Benita Hume and Richard Cooper. It was based on the book The House of the Arrow by A.E.W. Mason part of his Inspector Hanaud series. It was one of four film adaptations of the...


(1930)
The Happy Ending

The Happy Ending (1931 film)

The Happy Ending is a 1931 British drama film directed by Millard Webb and starring George Barraud, Daphne Courtney and Alfred Drayton. A father who deserted his family some years before returns home only to find his wife has told his children and neighbours that he died as a hero when he abandoned...


(1931)
A Honeymoon Adventure

A Honeymoon Adventure

A Honeymoon Adventure is a 1931 British thriller film directed by Maurice Elvey and starring Benita Hume, Peter Hannen and Harold Huth. A brilliant scientist and his wife go on honeymoon to Scotland where they are nearly kidnapped by agents of a foreign power. The majority of the film was made at...


(1931)
The Flying Fool

The Flying Fool

The Flying Fool is a 1931 British comedy film directed by Walter Summers and starring Henry Kendall, Benita Hume and Wallace Geoffrey.-Cast:* Henry Kendall - Vincent Floyd* Benita Hume - Marion Lee* Wallace Geoffrey - Michael Marlowe...


(1931)
Service for Ladies (1932)
Help Yourself

Help Yourself (film)

Help Yourself is a 1932 British comedy film directed by John Daumery and starring Benita Hume, Martin Walker and D.A. Clarke-Smith. It is based on the novel Sinners All by Jerome Kingston.-Cast:* Benita Hume - Mary Lamb...


(1932)
Women Who Play

Women Who Play

Women Who Play is a 1932 British comedy film directed by Arthur Rosson and starring Mary Newcomb, Benita Hume and George Barraud. In order to deter his wife from having an affair a man hires an actress as part of an elaborate scheme...


(1932)
Diamond Cut Diamond

Diamond Cut Diamond (film)

Diamond Cut Diamond is a 1932 British comedy crime film directed by Maurice Elvey and Fred Niblo and starring Adolphe Menjou, Claud Allister and Benita Hume.-Plot:...


(1932)
Sally Bishop

Sally Bishop (1932 film)

Sally Bishop is a 1932 British romantic drama film directed by T. Hayes Hunter and starring Joan Barry, Harold Huth and Isabel Jeans. It is an adaptation of the 1910 novel Sally Bishop, a Romance by E...


(1932)
Lord Camber's Ladies

Lord Camber's Ladies

Lord Camber's Ladies is a British drama film directed by Benn W. Levy, produced by Alfred Hitchcock, and starring Gerald du Maurier, Gertrude Lawrence, Benita Hume, and Nigel Bruce.-Plot:...


(1932)
Men of Steel

Men of Steel (film)

Men of Steel is a British drama film, directed by George King and starring John Stuart and Benita Hume. The screenplay was adapted by Edward Knoblock and Billie Bristow from a novel by Douglas Newton.-Production background:...


(1932)
Discord

Discord (film)

Discord is a 1933 British drama film directed by Henry Edwards and starring Owen Nares, Benita Hume and Harold Huth. Its plot involves a struggling composer who has to be supported financially by his wealthier wife. It was based on the play A Roof and Four Walls by E...


(1933)
The Little Damozel (1933)
Clear All Wires! (1933)
Gambling Ship

Gambling ship

A gambling ship was a barge or other large vessel used to house a casino and often other venues of entertainment. Under the old three-mile limit of territorial waters they were anchored usually just over three nautical miles off the United States coastline to avoid governmental interference...


(1933)
Looking Forward

Looking Forward (film)

Looking Forward is a 1933 American drama film starring Lionel Barrymore and Lewis Stone. Based on the Dodie Smith play Service, it depicts the desperate struggle of a London department store owner to save his business during the Great Depression....


(1933)
Only Yesterday

Only Yesterday (1933 film)

Only Yesterday is a 1933 drama film about a young woman who becomes pregnant by her boyfriend before he rushes off to fight in World War I. It stars Margaret Sullavan and John Boles. The film was based on the novel Briefe einer unbekannten by Stefan Zweig, though he was not credited...


(1933

1933 in film

-Events:* March 2 - King Kong premieres in New York City.* June 6 - The first drive-in theater opens, in Camden, New Jersey.* British Film Institute founded....


)
The Worst Woman in Paris? (1933)
The Private Life of Don Juan

The Private Life of Don Juan

The Private Life of Don Juan is a 1934 British comedy-drama film about the life of an aging Don Juan, based on the 1920 play L'homme à la Rose by Henry Bataille. The movie stars Douglas Fairbanks and Merle Oberon.-Plot:...


(1934

1934 in film

-Events:*January 26 - Samuel Goldwyn purchases the film rights to The Wonderful Wizard of Oz from the L. Frank Baum estate for $40,000.*February 19 - Bob Hope marries Dolores Reade...


)
Jew Suss

Jew Suss (1934 film)

Jud Süß is a 1934 British historical romantic drama film. Directed by Lothar Mendes, the film stars German actor Conrad Veidt in the role of Joseph Süss Oppenheimer. British censors did not allow a film to openly criticize the persecution of Jews, since it would have appeared as an attack on German...


(1934)
18 Minutes

18 Minutes

18 Minutes is a 1935 British drama film directed by Monty Banks and starring Gregory Ratoff, John Loder and Benita Hume. Its plot concerns a lion tamer who adopts an orphaned girl.-Cast:* Gregory Ratoff - Nikita* John Loder - Trelawney...


(1935)
The Divine Spark

The Divine Spark

The Divine Spark is a 1935 British musical film directed by Carmine Gallone and starring Marta Eggerth, Phillip Holmes, Benita Hume and Donald Calthrop...


(1935)
The Gay Deception

The Gay Deception

The Gay Deception is a 1935 romantic comedy film starring Francis Lederer and Frances Dee. Writers Stephen Morehouse Avery and Don Hartman were nominated for the Academy Award for Best Story.-Plot:...


(1935

1935 in film

-Events:*Judy Garland signs a contract with Metro-Goldwyn-Mayer .*Seven year old Shirley Temple wins a special Academy Award.*The Bantu Educational Kinema Experiment started in order to educate the Bantu peoples.-Top grossing films:-Academy Awards:...


)
Suzy

Suzy (1936 film)

Suzy is a 1936 drama film starring Jean Harlow, Franchot Tone, and Cary Grant. The film was partially written by Dorothy Parker and directed by George Fitzmaurice, based on a novel by Herman Gorman...


(1936

1936 in film

The year 1936 in film involved some significant events.-Events:*May 29 - Fritz Lang's first Hollywood film Fury, starring Spencer Tracy and Bruce Cabot, is released.*November 6 - first Porky Pig animated cartoon...


)
The Garden Murder Case (1936)
Tarzan Escapes

Tarzan Escapes

Tarzan Escapes is a 1936 Tarzan film based on the character created by Edgar Rice Burroughs. It was the third in the MGM Tarzan series to feature Johnny Weissmuller as the "King of the Apes".-Plot:...


(1936)
Moonlight Murder (1936)
Rainbow on the River (1936)
The Last of Mrs. Cheyney

The Last of Mrs. Cheyney (1937 film)

The Last of Mrs. Cheyney is a 1937 drama/comedy motion picture starring Joan Crawford, William Powell, Robert Montgomery and Frank Morgan. The film tells the story of a chic jewel thief in England, who falls in love with one of her marks....


(1937

1937 in film

The year 1937 in film involved some significant events, including the Walt Disney production of the first full-length animated film, Snow White and the Seven Dwarfs.- Events :*April 16 - Way Out West premieres in the US....


)
Peck's Bad Boy with the Circus

Peck's Bad Boy with the Circus

Peck's Bad Boy with the Circus is a 1938 American comedy film directed by Edward F. Cline, based on the book of the same name by George W. Peck.- Cast :*Tommy Kelly as Bill Peck*Ann Gillis as Fleurette de Cava*Edgar Kennedy as Arthur Bailey...


(1938)
External links