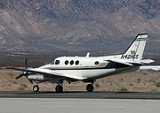 Beechcraft King Air
The
Beechcraft King Air
family is part of a line of twin-
turboprop
Turboprop
A turboprop engine is a type of turbine engine which drives an aircraft propeller using a reduction gear.The gas turbine is designed specifically for this application, with almost all of its output being used to drive the propeller...
aircraft
Aircraft
An aircraft is a vehicle that is able to fly by gaining support from the air, or, in general, the atmosphere of a planet. An aircraft counters the force of gravity by using either static lift or by using the dynamic lift of an airfoil, or in a few cases the downward thrust from jet engines.Although...
produced by the
Beech Aircraft Corporation
Beechcraft
Beechcraft is an American manufacturer of general aviation and military aircraft, ranging from light single engine aircraft to business jets and light military transports. Previously a division of Raytheon, it has been a brand of Hawker Beechcraft since 2006....
(now Beechcraft Division of
Hawker Beechcraft
Hawker Beechcraft
Hawker Beechcraft Corporation is an aerospace manufacturing company that builds the Beechcraft and Hawker business jet lines of aircraft....
). The King Air line comprises a number of models that have been divided into two families; the Model 90 and 100 series are known as King Airs, while the Model 200 and 300 series were originally
marketed
Marketing
Marketing is the process used to determine what products or services may be of interest to customers, and the strategy to use in sales, communications and business development. It generates the strategy that underlies sales techniques, business communication, and business developments...
as
Super King Airs
Beechcraft Super King Air
The Beechcraft Super King Air family is part of a line of twin-turboprop aircraft produced by the Beech Aircraft Corporation . The King Air line comprises a number of model series that fall into two families: the Model 90 series, Model 100 series , Model 200 series and Model 300 series...
, with "Super" being dropped by Beechcraft in 1996 (although it is still often used to differentiate the 200 and 300 series King Airs from their smaller stablemates).
The King Air was the first aircraft in its class and has been in continuous production since 1964.