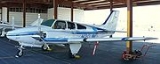 Beechcraft Baron
{|
See also
Further reading
Harding, Stephen. U.S. Army Aircraft Since 1947. Shrewsbury, UK:Airlife Publishing, 1990. ISBN 1-85310-102-8.
Michell, Simon. Jane's Civil and Military Aircraft Upgrades 1994-95. Coulsdon, UK:Jane's Information Group, 1994. ISBN 0-7106-1208-7.
Taylor, John W. R.

John W. R. Taylor

John William Ransom Taylor was a British aviation expert and editor. He edited Jane's All the World's Aircraft for three decades during the Cold War...


Jane's All The World's Aircraft 1976-77. London:Jane's Yearbooks, 1976, ISBN 0-354-00538-3.
External links