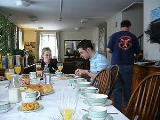 Bed and breakfast
A
bed and breakfast
is a small
lodging
Lodging
Lodging is a type of residential accommodation. People who travel and stay away from home for more than a day need lodging for sleep, rest, safety, shelter from cold temperatures or rain, storage of luggage and access to common household functions.Lodgings may be self catering in which case no...
establishment that offers overnight accommodation and
breakfast
Breakfast
Breakfast is the first meal taken after rising from a night's sleep, most often eaten in the early morning before undertaking the day's work...
, but usually does not offer other meals. Since the 1980s, the meaning of the term has also extended to include accommodations that are also known as "self-catering" establishments. Typically, bed and breakfasts are private homes with fewer than 10 bedrooms available for commercial use.
Generally, guests are accommodated in private bedrooms with private bathrooms, or in a suite of rooms including an en suite bathroom.