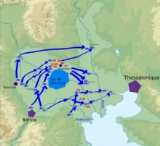 Battle of Giannitsa
The
Battle of Yenidje
or
Yenice
, also
Battle of Giannitsa
, was a battle between the Greek Army and the Ottoman Army on October 20 (O.S.) / November 2, 1912, during the
First Balkan War
First Balkan War
The First Balkan War, which lasted from October 1912 to May 1913, pitted the Balkan League against the Ottoman Empire. The combined armies of the Balkan states overcame the numerically inferior and strategically disadvantaged Ottoman armies and achieved rapid success...
. The Greek Army defeated the Ottomans, opening the way towards
Thessaloniki
Thessaloniki
Thessaloniki , historically also known as Thessalonica, Salonika or Salonica, is the second-largest city in Greece and the capital of the region of Central Macedonia as well as the capital of the Decentralized Administration of Macedonia and Thrace...
and capturing
Yenidje
Giannitsa
Giannitsa is the largest town and a former municipality in Pella regional unit, Greece. Since the 2011 local government reform it is part of the municipality Pella, of which it is a municipal unit...
(now Giannitsa).
Sources
An Index of events in the military history of the Greek nation., Hellenic Army General Staff, Army History Directorate, Athens, 1998. ISBN 960-7897-27-7
Richard C. Hall, The Balkan Wars 1912-1913. Prelude to the First World War., Routledge, New York 2000. ISBN 041-5229-46-4
Greece°N conflict=yes°W