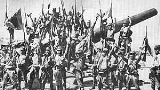 Battle of Corregidor
The
Battle for Corregidor
was the culmination of the
Japanese
Empire of Japan
The Empire of Japan is the name of the state of Japan that existed from the Meiji Restoration on 3 January 1868 to the enactment of the post-World War II Constitution of...
campaign for the conquest of the
Philippines
Commonwealth of the Philippines
The Commonwealth of the Philippines was a designation of the Philippines from 1935 to 1946 when the country was a commonwealth of the United States. The Commonwealth was created by the Tydings-McDuffie Act, which was passed by the U.S. Congress in 1934. When Manuel L...
. The fall of
Bataan
Bataan
Bataan is a province of the Philippines occupying the whole of the Bataan Peninsula on Luzon. The province is part of the Central Luzon region. The capital of Bataan is Balanga City and it is bordered by the provinces of Zambales and Pampanga to the north...
on 9 April 1942 ended all organized opposition by the
U.S. Army Forces Far East
U.S. Army Forces Far East
USAFFE included the Philippine Department, Philippine Army , and the Far East Air Force. USAFFE Headquarters was created on July 26, 1941, at No.1, Calle Victoria, Manila, Luzon, the Philippines, with Major General MacArthur as commander. The Chief of Staff was Lieutenant General Richard K...
to the invading Japanese forces on Luzon in the northern Philippines.
The island bastion of
Corregidor
Corregidor
Corregidor Island, locally called Isla ng Corregidor, is a lofty island located at the entrance of Manila Bay in southwestern part of Luzon Island in the Philippines. Due to this location, Corregidor was fortified with several coastal artillery and ammunition magazines to defend the entrance of...
, with its network of tunnels and formidable array of defensive armament, along with the fortifications across the entrance to
Manila Bay
Manila Bay
Manila Bay is a natural harbor which serves the Port of Manila , in the Philippines.The bay is considered to be one of the best natural harbors in Southeast Asia and one of the finest in the world...
, was the remaining obstacle to the 14th Japanese Imperial Army of Lieutenant General
Masaharu Homma
Masaharu Homma
was a general in the Imperial Japanese Army. He is noteworthy for his role in the invasion and occupation of the Philippines during World War II. Homma, who was an amateur painter and playwright, was also known as the Poet General.-Biography:...
.