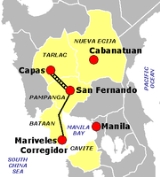 Bataan Death March
The Bataan Death March
was the forcible transfer, by the
Imperial Japanese Army
Imperial Japanese Army
-Foundation:During the Meiji Restoration, the military forces loyal to the Emperor were samurai drawn primarily from the loyalist feudal domains of Satsuma and Chōshū...
, of 75,000 American and Filipino prisoners of war after the three-month
Battle of Bataan
Battle of Bataan
The Battle of Bataan represented the most intense phase of Imperial Japan's invasion of the Philippines during World War II. The capture of the Philippine Islands was crucial to Japan's effort to control the Southwest Pacific, seize the resource-rich Dutch East Indies, and protect its Southeast...
in the
Philippines
Philippines
The Philippines , officially known as the Republic of the Philippines , is a country in Southeast Asia in the western Pacific Ocean. To its north across the Luzon Strait lies Taiwan. West across the South China Sea sits Vietnam...
during
World War II
World War II
World War II, or the Second World War , was a global conflict lasting from 1939 to 1945, involving most of the world's nations—including all of the great powers—eventually forming two opposing military alliances: the Allies and the Axis...
, which resulted in the deaths of thousands of prisoners.
The 97 km (60.3 mi) march was characterized by wide-ranging
physical abuse
Physical abuse
Physical abuse is abuse involving contact intended to cause feelings of intimidation, injury, or other physical suffering or bodily harm.-Forms of physical abuse:*Striking*Punching*Belting*Pushing, pulling*Slapping*Whipping*Striking with an object...
and murder, and resulted in very high fatalities inflicted upon prisoners and civilians alike by the Japanese Army, and was later judged by an Allied military commission to be a Japanese war crime.