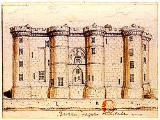 Bastille
The
Bastille
was a
fortress
Castle
A castle is a type of fortified structure built in Europe and the Middle East during the Middle Ages by European nobility. Scholars debate the scope of the word castle, but usually consider it to be the private fortified residence of a lord or noble...
in Paris, known formally as the
Bastille Saint-Antoine
. It played an important role in the internal conflicts of France and for most of its history was used as a state prison by the
kings of France
. The Bastille was built in response to the English threat to the city of Paris during the Hundred Years War.