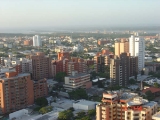 Barranquilla
Barranquilla
is an industrial port city and municipality located in northern
Colombia
Colombia
Colombia, officially the Republic of Colombia , is a unitary constitutional republic comprising thirty-two departments. The country is located in northwestern South America, bordered to the east by Venezuela and Brazil; to the south by Ecuador and Peru; to the north by the Caribbean Sea; to the...
, near the
Caribbean Sea
Caribbean Sea
The Caribbean Sea is a sea of the Atlantic Ocean located in the tropics of the Western hemisphere. It is bounded by Mexico and Central America to the west and southwest, to the north by the Greater Antilles, and to the east by the Lesser Antilles....
. The capital of the
Atlántico Department
Atlántico Department
Atlántico is a department of Colombia, located in northern Colombia with the Caribbean sea to its north, the Bolívar Department to its south, and the Magdalena Department to its east separated by the Magdalena River...
, it is the largest industrial city and port in the Colombian Caribbean region with a population of 1,148,506 as of 2005, which makes it
Colombia's fourth most populous city
after
Bogotá
Bogotá
Bogotá, Distrito Capital , from 1991 to 2000 called Santa Fé de Bogotá, is the capital, and largest city, of Colombia. It is also designated by the national constitution as the capital of the department of Cundinamarca, even though the city of Bogotá now comprises an independent Capital district...
,
Medellín
Medellín
Medellín , officially the Municipio de Medellín or Municipality of Medellín, is the second largest city in Colombia. It is in the Aburrá Valley, one of the more northerly of the Andes in South America. It has a population of 2.3 million...
and
Cali
Santiago de Cali
Santiago de Cali , simply referred to as Cali, is a city in western Colombia and the capital of the Valle del Cauca Department. With a population of 2.5 million, Cali is the third largest city in the country. It has one of the fastest growing economies and infrastructure in the country because...
.
Barranquilla lies strategically next to the delta of the
Magdalena River
Magdalena River
The Magdalena River is the principal river of Colombia, flowing northward about through the western half of the country. It takes its name from the biblical figure Mary Magdalene. It is navigable through much of its lower reaches, in spite of the shifting sand bars at the mouth of its delta, as...
, 7.5 kilometres (originally 25 km before rapid urban growth) from its mouth at the Caribbean Sea, serving as port for river and maritime transportation within Colombia.