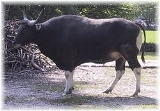 Banteng
The
banteng
also known as
tembadau
, is a species of
wild cattle
Bovini
The Bovini tribe is made up of large to very large grazers, including large animals of great economic significance to humans in Domestic Cattle, Domestic buffalo, and the Yak, as well as smaller Asian relatives, and large free-roaming bovids in the African Buffalo and the American...
found in
Southeast Asia
Southeast Asia
Southeast Asia, South-East Asia, South East Asia or Southeastern Asia is a subregion of Asia, consisting of the countries that are geographically south of China, east of India, west of New Guinea and north of Australia. The region lies on the intersection of geological plates, with heavy seismic...
.
Banteng have been domesticated in several places in Southeast Asia, and there are around 1.5 million domestic banteng, which are called Bali cattle. These animals are used as
working animal
Working animal
A working animal is an animal, usually domesticated, that is kept by humans and trained to perform tasks. They may be close members of the family, such as guide or service dogs, or they may be animals trained strictly to perform a job, such as logging elephants. They may also be used for milk, a...
s and for their meat. Bali cattle have also been introduced to
Northern Australia
Northern Territory
The Northern Territory is a federal territory of Australia, occupying much of the centre of the mainland continent, as well as the central northern regions...
, where they have established stable feral populations.
The following subspecies are recognised: