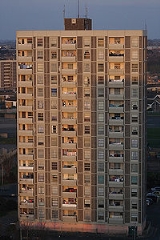 Ballymun
Ballymun
is an area on
Dublin
's
Northside
Northside (Dublin)
The Northside is the area in County Dublin, Ireland bounded to the south by the River Liffey to the east by Dublin Bay, to the north and west by the boundaries of County Dublin.- Introduction :...
close to
Dublin Airport
Dublin Airport
Dublin Airport, , is operated by the Dublin Airport Authority. Located in Collinstown, in the Fingal part of County Dublin, 18.4 million passengers passed through the airport in 2010, making it the busiest airport in the Republic of Ireland, followed by Cork and Shannon...
,
Ireland
Ireland
Ireland is an island to the northwest of continental Europe. It is the third-largest island in Europe and the twentieth-largest island on Earth...
. It is infamous for the
Ballymun flats
Ballymun Flats
The Ballymun Flats refers to a number of flats - and often the tower block complex - in Ballymun, Dublin which is currently undergoing demolition.-History:...
, which became a symbol of poverty, drugs, alienation from the state and social problems in Ireland from the 1970s. Today it is undergoing a multi-billion euro renewal, with a renovated village centre, surrounded by estates of houses and apartments, with several sub-districts such as Sillogue and
Poppintree
Poppintree
Poppintree is a neighbourhood located in Dublin, Ireland bordered by Glasnevin and Finglas. It is part of Ballymun. The area includes Poppintree Park, the Poppintree Sports and Community Complex and the Republic of Irelands' only IKEA store.-History:...
.
Ballymun had a population of 22,109 at the 2006 Census.
Amenities
Today Ballymun has a wide range of amenities, from green spaces and the public Silloge Golf Course to a Tesco-anchored but very run-down shopping centre, a range of other shops and pubs and a hotel, to a public sector office development, with many branches of the city government (including a Motor Tax and Driver Licence office) and the Health Service and a very modern but small public leisure centre. There is a church in the old village centre, and a number of schools, including a Gaelscoil (
Irish
Irish language
Irish , also known as Irish Gaelic, is a Goidelic language of the Indo-European language family, originating in Ireland and historically spoken by the Irish people. Irish is now spoken as a first language by a minority of Irish people, as well as being a second language of a larger proportion of...
-speaking) primary school.
Transport
Ballymun is served by a number of
Dublin Bus
Dublin Bus
Dublin Bus is a public transport operator in Ireland. It operates an extensive bus network of 172 radial, cross-city and peripheral routes and 18 night routes in the city of Dublin and the Greater Dublin Area. The company, established in 1987, is a subsidiary of Córas Iompair Éireann which is...
routes. The area is also to have an underground stop on the planned Metro North (
Dublin
city centre to
Swords
Swords, Dublin
Swords is the county town of Fingal in Ireland. It is about 13 km north of Dublin city centre and is part of its commuter belt.- History :...
) line of the
Dublin Metro
Dublin Metro
The Dublin Metro is a proposed metro system for the city of Dublin. The first two lines were set out in the Irish Government's 2005 Transport 21 transport plan: they are known as Metro North and Metro West...
. Journey time from Ballymun to the airport is estimated be around three minutes, and to Dublin city centre around twenty-five minutes.
History and nature
The current town of Ballymun is not in the area historically called Ballymun; instead, it is in several
townlands
Townland
A townland or bally is a small geographical division of land used in Ireland. The townland system is of Gaelic origin—most townlands are believed to pre-date the Norman invasion and most have names derived from the Irish language...
, the most significant of which was Stormanstown. The nearest village was Santry Village, property of the Domville family.
Due to what were seen to be undesirable associations, some say that the area has shrunk since the completion of the tower blocks. For instance, in the early days of
Dublin City University
Dublin City University
Dublin City University is a university situated between Glasnevin, Santry, Ballymun and Whitehall on the Northside of Dublin in Ireland...
, then called
NIHE, Dublin
National Institute for Higher Education
A National Institute for Higher Education was a category of higher education institution established in the Republic of Ireland to provide higher level technical education above the standard of the then established Regional Technical College system but at university level...
, this institution was sometimes referred to as being in Ballymun (part of the "Ballymun Project"), or sometimes in Whitehall, whilst today it is referred to and has a postal address in
Glasnevin
Glasnevin
Glasnevin is a largely residential neighbourhood of Dublin, Ireland.-Geography:A mainly residential neighbourhood, it is located on the Northside of the city of Dublin . It was originally established on the northern bank of the River Tolka...
even though it has not changed location. Indeed, much of the present day central Ballymun lies on lands once in the northern reaches of the
Albert Agricultural College
estate, the forerunner of the present-day Dublin City University (D.C.U.).
Streets have also been renamed. For example, Ballymun Avenue was renamed Glasnevin Avenue after a local plebiscite in the 1970s.
KIP Ballymun Avenue was first known as Santry Avenue Extension, then Ballymun Avenue, then Glasnevin Avenue.
Books about Ballymun
In September 2006,
Gill & Macmillan
Gill & Macmillan
Gill & Macmillan is a publisher based in Park West, Dublin, Ireland, and is a publisher of nonfiction and educational books in Ireland. It is a member of CLE, the Irish Book Publishers' Association.-History:...
published
The Mun
, by Lynn Connolly. This is a memoir covering the history of Ballymun from its inception to the final regeneration of the town.
The Mun
was Lynn's account of another side of Ballymun, of which she has fond memories. She wrote of a side of Ballymun not written of in the press stories about drug dealing and gangsters; a community that thrived in spite of the squalor.
The Mun
was Lynn's way of putting the story straight for the decent people of Ballymun.
In April 2009, Irish publisher Gill & Macmillan published Ballymun resident Rachael Keogh's account of her life as a heroin addict,
Dying to Survive
. Rachael started taking drugs aged 12 and for the next 15 years was hooked on a variety of substances. In 2006, after repeated attempts to get help, Rachael went to the media to publicise her plight.
Ballymun tower blocks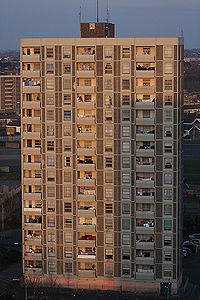 Among the opprobrium heaped on Ballymun, the deployment of the flats has been described by the environmental journalist Frank McDonald, in his book
The Construction of Dublin
, as the Irish state's 'worst planning disaster'. However, at the time of its construction, Ballymun was a sought after location and prospective tenants had to pass an interview to get housing there. There were three types of flats: seven fifteen-storey towers; nineteen eight-storey blocks; ten four-storey blocks. The flats were built in the 1960s under the authority of
Neil Blaney
Neil Blaney
Neil Terence Columba Blaney was a senior Irish politician. He was first elected to Dáil Éireann in 1948 as a Fianna Fáil Teachta Dála representing Donegal East. Blaney served as Minister for Posts and Telegraphs , Minister for Local Government and Minister for Agriculture and Fisheries...
, the then
Fianna Fáil
Fianna Fáil
Fianna Fáil – The Republican Party , more commonly known as Fianna Fáil is a centrist political party in the Republic of Ireland, founded on 23 March 1926. Fianna Fáil's name is traditionally translated into English as Soldiers of Destiny, although a more accurate rendition would be Warriors of Fál...
Minister for Local Government. They incorporated the best social housing practice of the time. The first tenants moved in between August 1966 and December 1966. By February 1969, when the National Building Agency's contract for Ballymun ceased and control of Ballymun was handed to
Dublin Corporation
Dublin Corporation
Dublin Corporation , known by generations of Dubliners simply as The Corpo, is the former name given to the city government and its administrative organisation in Dublin between 1661 and 1 January 2002...
(
Dublin County Council
Dublin County Council
Dublin County Council was a local authority for the administrative county of County Dublin in the Republic of Ireland. It was established by the Local Government Act 1898....
didn't want it), there was a total of 3,021 dwellings in the new Ballymun, all of which was social housing under the control of the Irish state through Dublin Corporation (
the Corpo
).
The tenants primarily came from the most deprived areas of inner city Dublin, places where the depth of poverty could not be conceived of in modern Ireland. Many tenants were middle class residents whose property was 'compulsory purchased' by Dublin City Council. They arrived in Ballymun to some of the finest social housing in Europe, having central heating and other rarities of the day in their homes.
However, there was a profound lack of amenities throughout the area - initially the only shop was a van selling at premium prices, for example - and, combined with a lack of trees, and estates built in cul de sacs, ghettoisation developed. The earliest efforts to improve services began in the 1970s with the establishment of tenants' associations, particularly in Sillogue. By the recession of the 1980s, Ballymun was infested with social problems, most especially alcohol and other drug abuse. Although the public image of Ballymun has changed somewhat since the beginning of the Ballymun regeneration project in 1997, continuing social problems in Ballymun ensure it remains a remarkably different world to, for example, neighbouring Glasnevin.
Regeneration of Ballymun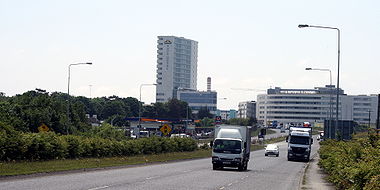 The creation of Ballymun Regeneration Limited as a limited company controlled by Dublin City Council initiated the beginning of the demolition of the Ballymun flats and the emergence of a "new town" of Ballymun. , six of the seven towers (Pearse, Ceannt, Macdermott McDonagh, Connolly, and Clarke) as well as three eight-storey blocks and seven four-storey blocks have been demolished by DSM, with the residents generally rehoused in new "state of the art" housing in Ballymun. The new housing is a mixture of public, private, voluntary and co-operative housing. The "new Ballymun" is due to be completed by 2013. A documentary film entitled "Ballumun Lullaby" was recently released in February 2011 and includes scenes detailing the regeneration of Ballymun as well as it's impact on the culture of its populace.
The regeneration project, despite well-publicised questions about accountability and democratic participation, has also delivered many other amenities, including reworked park areas, a major City Council office facility, Health Service facilities, a public leisure centre, student accommodation, a new hotel and renewed shopping areas. A film of the leisure centre by filmmakers Joe Lawlor and Christine Molloy, LEISURE CENTRE, was made in 2007 and starred hundreds of Ballymun residents. See
here
for details.
As part of the New Ballymun, a major tree-planting project called Amaptocare has been run, with more than 600 people sponsoring around 700 trees, and providing inscription texts which are engraved on plaques near the trees. All of the trees will be identified on a glass panel at Ballymun's central plaza, which was scheduled to be complete by 2007 but is now due by 2013.
Ballymun Mini-Ghaeltacht
There are plans to create a small Irish speaking community in Ballymun, consisting primarily of 38 homes, centered around the Gaelscoil that is already in the area, as well as an Irish speaking shop in the locality and the local branch of
Glór na nGael
. The project has a set completion date in 2012 with construction hoped to begin by the end of 2011.
Sport
There are a number of local sports groups, including football club
Ballymun Kickhams
Ballymun Kickhams
Ballymun Kickhams is a Gaelic Athletic Association club in Ballymun, Dublin, Republic of Ireland. The club has a clubhouse and its home pitch, Arás Proinsias Mác Gafraidh, just off the Ballymun exit of the M50. Ballymun also has a full size astroturf pitch...
GAA, Ballymun United Football Club and St Pats United/Ard Celtic FC.
Unidare RFC
Unidare RFC
Unidare Rugby Football Club, commonly known as Unidare RFC, is a Rugby union club founded in 1958 and based in the Dublin City University Sports Complex on the Ballymun Road in Dublin city, Ireland. The club's emblem is a Raven and they play in Black and Red...
, who came runners-up in the 2007/08 Dublin Metro League, did so with a panel of players drawn heavily from the Ballymun area and young players from Ballymun now play at all youth levels for the club.
See also
List of towns and villages in Ireland
External links
Bloody Sunday