 Baldrs draumar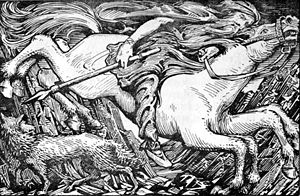 Baldrs draumar
or
Vegtamskviða
is an
Eddic poem
Poetic Edda
The Poetic Edda is a collection of Old Norse poems primarily preserved in the Icelandic mediaeval manuscript Codex Regius. Along with Snorri Sturluson's Prose Edda, the Poetic Edda is the most important extant source on Norse mythology and Germanic heroic legends, and from the early 19th century...
, contained in the manuscript
AM 748 I 4to
AM 748 I 4to
AM 748 I 4to is an Icelandic vellum manuscript fragment containing several Eddaic poems. It dates to the beginning of the 14th century. The six sheets which have been preserved contain the following poems, all mythological.*Grímnismál...
. It relates information on the myth of Baldr's death in a way consistent with
Gylfaginning
Gylfaginning
Gylfaginning, or the Tricking of Gylfi , is the first part of Snorri Sturluson's Prose Edda after Prologue. The Gylfaginning deals with the creation and destruction of the world of the Norse gods, and many other aspects of Norse mythology...
.
Baldr has been having nightmares.
Odin
Odin
Odin is a major god in Norse mythology and the ruler of Asgard. Homologous with the Anglo-Saxon "Wōden" and the Old High German "Wotan", the name is descended from Proto-Germanic "*Wodanaz" or "*Wōđanaz"....
rides to
Hel
Hel (realm)
In Norse mythology, Hel, the location, shares a name with Hel, a female figure associated with the location. In late Icelandic sources, varying descriptions of Hel are given and various figures are described as being buried with items that will facilitate their journey to Hel after their death...
to investigate. He finds the grave of a
völva
Völva
A vǫlva or völva is a shamanic seeress in Norse paganism, and a recurring motif in Norse mythology....
and resurrects her. Their conversation follows, where the völva tells Odin about Baldr's fate. In the end Odin asks her a question which reveals his identity and the
völva
tells him to ride home.
The poem is one of the shortest Eddic poems, consisting of 14
fornyrðislag
stanzas. Some late paper manuscripts contain about five more stanzas, those are thought to be of young origin.
Sophus Bugge
Sophus Bugge
Sophus Bugge was a noted Norwegian philologist and linguist. His scientific work was directed to the study of runic inscriptions and Norse philology. Bugge is best known for his theories and his work on the runic alphabet and the Poetic Edda and Prose Edda. -Background:Elseus Sophus Bugge was...
believed them to have been composed by the author of
Forspjallsljóð
.
English translations
Old Norse editions
Vegtamskviða Sophus Bugge

Sophus Bugge

Sophus Bugge was a noted Norwegian philologist and linguist. His scientific work was directed to the study of runic inscriptions and Norse philology. Bugge is best known for his theories and his work on the runic alphabet and the Poetic Edda and Prose Edda. -Background:Elseus Sophus Bugge was...


's edition of the manuscript text
Baldrs draumar Guðni Jónsson's edition of the text with normalized spelling
AM 748 I 4to Facsimile of the original manuscript
Other links