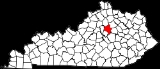 Athens, Kentucky
Athens, Kentucky
,
United States
United States
The United States of America is a federal constitutional republic comprising fifty states and a federal district...
, is a small unincorporated
village
Village
A village is a clustered human settlement or community, larger than a hamlet with the population ranging from a few hundred to a few thousand , Though often located in rural areas, the term urban village is also applied to certain urban neighbourhoods, such as the West Village in Manhattan, New...
in the rural services area of Lexington-
Fayette Urban County
Lexington, Kentucky
Lexington is the second-largest city in Kentucky and the 63rd largest in the US. Known as the "Thoroughbred City" and the "Horse Capital of the World", it is located in the heart of Kentucky's Bluegrass region...
to the east of Interstate 75. First settled in 1786 as the community of Cross Plains, the town was chartered as Athens in 1826 and had its own post office from that time until 1906. The current commercial center was reduced to its present size by a series of fires in the mid-19th century.
Like several other communities, the local pronunciation of its name uses a long vowel in the first syllable, making it ˈeɪθənz . The common english pronunciation of this name, which is most notably used for
the Greek capital
Athens
Athens , is the capital and largest city of Greece. Athens dominates the Attica region and is one of the world's oldest cities, as its recorded history spans around 3,400 years. Classical Athens was a powerful city-state...
, uses a short "a".
Athens Historic District
The
Athens Historic District
was added to the
National Register of Historic Places
National Register of Historic Places
The National Register of Historic Places is the United States government's official list of districts, sites, buildings, structures, and objects deemed worthy of preservation...
in 1979 for its
Italianate
Italianate architecture
The Italianate style of architecture was a distinct 19th-century phase in the history of Classical architecture. In the Italianate style, the models and architectural vocabulary of 16th-century Italian Renaissance architecture, which had served as inspiration for both Palladianism and...
,
Greek Revival
Greek Revival architecture
The Greek Revival was an architectural movement of the late 18th and early 19th centuries, predominantly in Northern Europe and the United States. A product of Hellenism, it may be looked upon as the last phase in the development of Neoclassical architecture...
, and Late
Victorian
Victorian architecture
The term Victorian architecture refers collectively to several architectural styles employed predominantly during the middle and late 19th century. The period that it indicates may slightly overlap the actual reign, 20 June 1837 – 22 January 1901, of Queen Victoria. This represents the British and...
architecture
Architecture
Architecture is both the process and product of planning, designing and construction. Architectural works, in the material form of buildings, are often perceived as cultural and political symbols and as works of art...
.