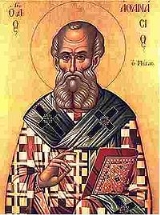 Athanasius of Alexandria
Athanasius of Alexandria
[b. ca. (296-298) – d. 2 May 373] is also given the titles
St. Athanasius the Great
,
St. Athanasius I of Alexandria
,
St Athanasius the Confessor
and (in the Coptic Orthodox Church, mainly)
St Athanasius the Apostolic
. He was the 20th bishop of Alexandria. His long episcopate lasted 45 years (c. 8 June 328 - 2 May 373), of which over 17 years were spent in five exiles ordered by four different Roman emperors.