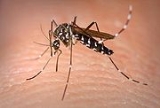 Asian tiger mosquito
The
Asian tiger mosquito
or
forest day mosquito
,
Aedes albopictus
(
Stegomyia albopicta
), from the
mosquito
Mosquito
Mosquitoes are members of a family of nematocerid flies: the Culicidae . The word Mosquito is from the Spanish and Portuguese for little fly...
(Culicidae)
family
Family (biology)
In biological classification, family is* a taxonomic rank. Other well-known ranks are life, domain, kingdom, phylum, class, order, genus, and species, with family fitting between order and genus. As for the other well-known ranks, there is the option of an immediately lower rank, indicated by the...
, is characterized by its black and white striped legs, and small black and white striped body. It is native to the
tropical
Tropics
The tropics is a region of the Earth surrounding the Equator. It is limited in latitude by the Tropic of Cancer in the northern hemisphere at approximately N and the Tropic of Capricorn in the southern hemisphere at S; these latitudes correspond to the axial tilt of the Earth...
and
subtropical
Subtropics
The subtropics are the geographical and climatical zone of the Earth immediately north and south of the tropical zone, which is bounded by the Tropic of Cancer and the Tropic of Capricorn, at latitudes 23.5°N and 23.5°S...
areas of
Southeast Asia
Southeast Asia
Southeast Asia, South-East Asia, South East Asia or Southeastern Asia is a subregion of Asia, consisting of the countries that are geographically south of China, east of India, west of New Guinea and north of Australia. The region lies on the intersection of geological plates, with heavy seismic...
; however, in the past couple of decades this species has invaded many countries throughout the world through the transport of goods and increasing international travel.