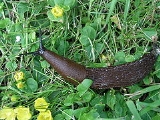 Arionoidea
Arionoidea
is a taxonomic group, a super
family
Family (biology)
In biological classification, family is* a taxonomic rank. Other well-known ranks are life, domain, kingdom, phylum, class, order, genus, and species, with family fitting between order and genus. As for the other well-known ranks, there is the option of an immediately lower rank, indicated by the...
of air-breathing land slugs, shell-less
terrestrial
Terrestrial animal
Terrestrial animals are animals that live predominantly or entirely on land , as compared with aquatic animals, which live predominantly or entirely in the water , or amphibians, which rely on a combination of aquatic and terrestrial habitats...
pulmonate gastropod mollusks.
Families
Families within the superfamily Arionoidea include: