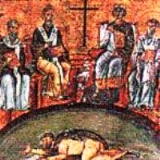 Arianism
Arianism is the theological teaching attributed to
Arius
Arius
Arius was a Christian presbyter in Alexandria, Egypt of Libyan origins. His teachings about the nature of the Godhead, which emphasized the Father's divinity over the Son , and his opposition to the Athanasian or Trinitarian Christology, made him a controversial figure in the First Council of...
(
ca.
Circa
Circa , usually abbreviated c. or ca. , means "approximately" in the English language, usually referring to a date...
AD 250–336), a Christian
presbyter
Presbyter
Presbyter in the New Testament refers to a leader in local Christian congregations, then a synonym of episkopos...
from
Alexandria
Alexandria
Alexandria is the second-largest city of Egypt, with a population of 4.1 million, extending about along the coast of the Mediterranean Sea in the north central part of the country; it is also the largest city lying directly on the Mediterranean coast. It is Egypt's largest seaport, serving...
, Egypt, concerning the relationship of the entities of the
Trinity
Trinity
The Christian doctrine of the Trinity defines God as three divine persons : the Father, the Son , and the Holy Spirit. The three persons are distinct yet coexist in unity, and are co-equal, co-eternal and consubstantial . Put another way, the three persons of the Trinity are of one being...
('God the Father', 'God the Son' and 'God the Holy Spirit') and the precise nature of the
Son of God
Son of God
"Son of God" is a phrase which according to most Christian denominations, Trinitarian in belief, refers to the relationship between Jesus and God, specifically as "God the Son"...
as being a subordinate entity to God the Father. Deemed a
heretic
Heresy
Heresy is a controversial or novel change to a system of beliefs, especially a religion, that conflicts with established dogma. It is distinct from apostasy, which is the formal denunciation of one's religion, principles or cause, and blasphemy, which is irreverence toward religion...
by the
First Council of Nicaea
First Council of Nicaea
The First Council of Nicaea was a council of Christian bishops convened in Nicaea in Bithynia by the Roman Emperor Constantine I in AD 325...
of 325, Arius was later exonerated in 335 at the
First Synod of Tyre
First Synod of Tyre
The First Synod of Tyre or the Council of Tyre was a gathering of bishops called together by Emperor Constantine I for the primary purpose of evaluating charges brought against Athanasius, the Patriarch of Alexandria.-Background:...
, and then, after his death, pronounced a heretic again at the
First Council of Constantinople
First Council of Constantinople
The First Council of Constantinople is recognized as the Second Ecumenical Council by the Assyrian Church of the East, the Oriental Orthodox, the Eastern Orthodox, the Roman Catholics, the Old Catholics, and a number of other Western Christian groups. It was the first Ecumenical Council held in...
of 381.