 Archivolt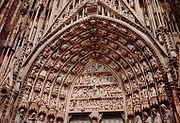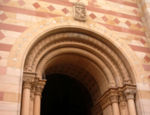 An
archivolt
is an ornamental molding or band following the curve on the underside of an arch. It is composed of bands of ornamental
molding
Molding (decorative)
Molding or moulding is a strip of material with various profiles used to cover transitions between surfaces or for decoration. It is traditionally made from solid milled wood or plaster but may be made from plastic or reformed wood...
s (or other architectural elements) surrounding an arched opening, corresponding to the
architrave
Architrave
An architrave is the lintel or beam that rests on the capitals of the columns. It is an architectural element in Classical architecture.-Classical architecture:...
in the case of a rectangular opening. The word is sometimes used to refer to the under-side or inner curve of the arch itself (more properly, the
intrados
).
The word originates in the Italian (or French) equivalents of the English words
arch
Arch
An arch is a structure that spans a space and supports a load. Arches appeared as early as the 2nd millennium BC in Mesopotamian brick architecture and their systematic use started with the Ancient Romans who were the first to apply the technique to a wide range of structures.-Technical aspects:The...
and
vault
Vault (architecture)
A Vault is an architectural term for an arched form used to provide a space with a ceiling or roof. The parts of a vault exert lateral thrust that require a counter resistance. When vaults are built underground, the ground gives all the resistance required...
.