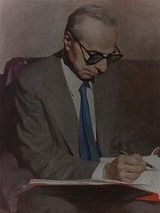 Arab nationalism
Arab nationalism
is a nationalist ideology celebrating the glories of Arab civilization, the language and literature of the Arabs, calling for rejuvenation and political union in the Arab world. Its central premise is that the peoples of the
Arab World
Arab world
The Arab world refers to Arabic-speaking states, territories and populations in North Africa, Western Asia and elsewhere.The standard definition of the Arab world comprises the 22 states and territories of the Arab League stretching from the Atlantic Ocean in the west to the Arabian Sea in the...
, from the
Atlantic Ocean
Atlantic Ocean
The Atlantic Ocean is the second-largest of the world's oceanic divisions. With a total area of about , it covers approximately 20% of the Earth's surface and about 26% of its water surface area...
to the
Arabian Sea
Arabian Sea
The Arabian Sea is a region of the Indian Ocean bounded on the east by India, on the north by Pakistan and Iran, on the west by the Arabian Peninsula, on the south, approximately, by a line between Cape Guardafui in northeastern Somalia and Kanyakumari in India...
, constitute one nation bound together by common linguistic, cultural, religious, and historical heritage. One of the primary goals of Arab nationalism is the end of
Western
Western world
The Western world, also known as the West and the Occident , is a term referring to the countries of Western Europe , the countries of the Americas, as well all countries of Northern and Central Europe, Australia and New Zealand...
influence in the Arab World, seen as a "nemesis" of Arab strength, and the removal of those Arab governments considered to be dependent upon Western power.