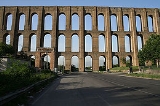 Aqueduct of Vanvitelli
The
Aqueduct of Vanvitelli
or
Caroline Aqueduct
is an
aqueduct
Aqueduct
An aqueduct is a water supply or navigable channel constructed to convey water. In modern engineering, the term is used for any system of pipes, ditches, canals, tunnels, and other structures used for this purpose....
built to supply the
Reggia di Caserta
Caserta Palace
The Royal Palace of Caserta is a former royal residence in Caserta, southern Italy, constructed for the Bourbon kings of Naples. It was the largest palace and one of the largest buildings erected in Europe during the 18th century...
and the
San Leucio
San Leucio
San Leucio is a frazione of the comune of Caserta, in the region of Campania in southern Italy. It is most notable for a resort developed around an old silk factory, included in the UNESCO World Heritage sites list in 1997....
complex, supplied by water arising at the foot of Taburno, from the springs of the Fizzo, in the territory of Bucciano (BN), which it carries along a winding 38 km route (mostly underground).
Commissioned by
Charles of Bourbon
Charles III of Spain
Charles III was the King of Spain and the Spanish Indies from 1759 to 1788. He was the eldest son of Philip V of Spain and his second wife, the Princess Elisabeth Farnese...
and designed by
Luigi Vanvitelli
Luigi Vanvitelli
Luigi Vanvitelli was an Italian engineer and architect. The most prominent 18th-century architect of Italy, he practiced a sober classicizing academic Late Baroque style that made an easy transition to Neoclassicism.-Biography:Vanvitelli was born at Naples, the son of a Dutch painter of land and...
(after whom it derives its two names), its construction began in March 1753 and concluded with its opening on 7 May 1762.
Of particular architectural value is the perfectly-preserved 529m long section in
tufa
Tufa
Tufa is a variety of limestone, formed by the precipitation of carbonate minerals from ambient temperature water bodies. Geothermally heated hot-springs sometimes produce similar carbonate deposits known as travertine...
bridging the
Valle di Maddaloni
Valle di Maddaloni
Valle di Maddaloni is a comune in the Province of Caserta in the Italian region Campania, located about 30 km northeast of Naples and about 7 km east of Caserta....
between monte Logano (to the east) and monte Garzano (to the west) - this section was made a
World Heritage Site
World Heritage Site
A UNESCO World Heritage Site is a place that is listed by the UNESCO as of special cultural or physical significance...
in 1997 and (modelled on ancient Roman acqueducts) is made of three rows of arches, 55.8m high at its highest point.
External links