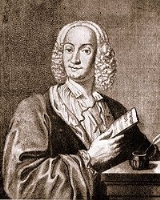 Antonio Vivaldi
Antonio Lucio Vivaldi
(4 March 1678 – 28 July 1741), nicknamed ("The Red Priest") because of his red hair, was an Italian
Baroque
Baroque music
Baroque music describes a style of Western Classical music approximately extending from 1600 to 1760. This era follows the Renaissance and was followed in turn by the Classical era...
composer, priest, and
virtuoso
Virtuoso
A virtuoso is an individual who possesses outstanding technical ability in the fine arts, at singing or playing a musical instrument. The plural form is either virtuosi or the Anglicisation, virtuosos, and the feminine form sometimes used is virtuosa...
violinist, born in
Venice
Venice
Venice is a city in northern Italy which is renowned for the beauty of its setting, its architecture and its artworks. It is the capital of the Veneto region...
. Vivaldi is recognized as one of the greatest Baroque composers, and his influence during his lifetime was widespread over Europe. Vivaldi is known mainly for composing instrumental concertos, especially for the violin, as well as sacred choral works and over 40 operas.
Se questa non piace, non voglio più scrivere di musica.

Translation: If you don't like this, I'll stop writing music.