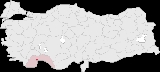 Antalya Airport
Antalya Airport
is 13 km (8.1 mi) northeast of the city center of
Antalya
Antalya
Antalya is a city on the Mediterranean coast of southwestern Turkey. With a population 1,001,318 as of 2010. It is the eighth most populous city in Turkey and country's biggest international sea resort.- History :...
, Turkey. The airport is operated in Turkey's primary holiday destination located on the country's Mediterranean coast. The airport is big and modern, built to accommodate the millions of passengers who come to Turkey's Mediterranean beaches in summer. It handled nearly 18.8 million passengers in 2008, more than 16.2 million of which were international passengers. The airport has two international terminals and one domestic terminal. Based on the projection from data from peak months (e.g. August 2009), it currently has an estimated capacity of accommodating up to 35 million passengers/year, theoretically. The opening of Alanya Gazipaşa Airport between
Anamur
Anamur
Anamur is a town and district of the province of Mersin, on the Mediterranean coast of southern Turkey, between Antalya and the city of Mersin.Anamur is Turkey's southernmost point, a coastal resort famous for its bananas and peanuts.-Etymology:...
and
Alanya
Alanya
Alanya , formerly Alaiye, is a beach resort city and a component district of Antalya Province in the Mediterranean Region of Turkey, from the city of Antalya. On the southern coast of Turkey, the district has an area of 1,598.51 km2 and 248,286 inhabitants...
, which is about 100 km (62.1 mi) to the east of AYT, will help ease the airport's traffic.
Antalya is one of the major airports on the Southwest of Turkey, the others being Bodrum and
Dalaman
Dalaman Airport
- Traffic Statistics :Source: DHMI.gov.tr...
.
In
July
July
July is the seventh month of the year in the Julian and Gregorian Calendars and one of seven months with the length of 31 days. It is, on average, the warmest month in most of the Northern hemisphere and the coldest month in much of the Southern hemisphere...
2011 the airport was selected
'Best Airport in Europe
' (10-25 million passenger category) by
Airports Council International
Airports Council International
Airports Council International is the association of the world's airports. It is a non profit organization, whose prime purpose is to advance the interests of airports and to promote professional excellence in airport management and operations...
(AIC).
History
The construction of International Terminal 1 started in 1996 by Bayindir Holding and it was ready for service on 1 April 1998. In 1999 Fraport AG and Bayindir Holding signed a joint venture agreement. Terminal 1 is operated by Fraport AG.
Now there is an additional new International Terminal, Terminal 2, which is operated by the company Celebi.
info:www.antalyairport.net
Terminals, airlines and destinations
The below list includes scheduled and charter airlines and destinations.
Traffic Statistics
Antalya International Airport Passenger Traffic Statistics

| Year (months) | Domestic | %change | International | %change | Total | %change |
| --- | --- | --- | --- | --- | --- | --- |
| 2011 (October)* | 3,901,784 | 22.0% | 19,598,020 | 12.0% | 23,499,804 | 14.0% |
| 2010 (all) | 3,694,085 | 18.0% | 18,302,516 | 20.0% | 21,996,601 | 20.0% |
| 2009 (all) | 3,135,139 | 21.0% | 15,210,554 | 6.0% | 18,345,693 | 2.0% |
| 2008 (all) | 2,588,054 | 1.5% | 16,201,203 | 6.9% | 18,789,257 | 6.1% |
| 2007 (all) | 2,550,396 | 6.0% | 15,159,989 | 24.0% | 17,710,385 | 21.0% |
| 2006 (all) | 2,406,626 | 50.0% | 12,235,417 | 14.0% | 14,642,043 | 8.0% |
| 2005 (all) | 1,608,749 | 47.0% | 14,256,114 | 13.0% | 15,864,863 | 16.0% |
| 2004 (all) | 1,092,858 | 77.6% | 12,563,195 | 28.8% | 13,656,053 | 31.7% |
| 2003 (all) | 615,420 | 5.4% | 9,756,180 | 0.1% | 10,371,600 | 0.4% |
| 2002 (all) | 584,077 | | 9,750,874 | | 10,334,951 | |
Load (Luggage+Cargo+Mail) Data in metric tonnes

| Year (months) | Domestic | %change | International | %change | Total | %change |
| --- | --- | --- | --- | --- | --- | --- |
| 2010 (all)* | 78,333 | 1.0% | 369,074 | 20.0% | 447,407 | 16.0% |
| 2009 (all) | 77,705 | 40.0% | 306,610 | 6.0% | 384,315 | 1.0% |
| 2008 (all) | 53,929 | 0.1% | 358,041 | 16.9% | 411,970 | 14.3% |
| 2007 (all) | 53,952 | 4.0% | 306,394 | 24.0% | 360,346 | 20.0% |
| 2006 (all) | 51,764 | 48.0% | 247,433 | 14.0% | 299,197 | 7.0% |
| 2005 (all) | 34,931 | 41.0% | 286,801 | 13.0% | 321,732 | 16.0% |
| 2004 (all) | 24,793 | 69.6% | 253,612 | 32.1% | 278,405 | 34.8% |
| 2003 (all) | 14,622 | 15.3% | 191,914 | 12.4% | 206,536 | 12.6% |
| 2002 (all) | 12,681 | | 170,688 | | 183,369 | |
(*) Preliminary data
Milestones:
In 2002 it was ranked as the 84th busiest airport worldwide and 25th in Europe
In 2003 the airport handled 10 million passengers, representing an increase of 78% since 1998
The Airport Terminal serves about 40% of all tourists coming to Turkey by air
The number of staff at the airport is nearly 2000 (2005 data)
According to ACI (Airport Council International) statistics, Antalya Airport International Terminal ranks amongst the top 100 busiest airports worldwide since 2001
According to ACI (Airport Council International) statistics, Antalya Airport International Terminal ranked as the second busiest terminal on the Mediterranean coast line after Majorca in 2005
According to ACI (Airport Council International) statistics, Antalya Airport ranked 30th in 2005, 2008 and 2009 for international passenger traffic
In 2007, Antalya airport was Europe's 25th busiest airport, handling 17,795,523 passengers, an increase of 20.5% over 2006
In 2008, AYT was the world's 30th busiest airport

World's busiest airports by international passenger traffic

The following is a list of the world's busiest airports by international passenger traffic.London Heathrow has been the busiest since 2000-2010 year-to-date statistics:Airports Council International's year-to-date figures are as follows....


in terms of international passengers traffic. In 2009, AYT also held its 30th spot in that category among world airports, with 15,210,733 international passengers. By the end of 2010, it rose to the 23rd spot with over 18 Million international passengers.
More detailed and current statistics can be found at DHMI's website
External links