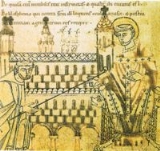 Anno II, Archbishop of Cologne
Saint
Anno II
was Archbishop of Cologne from 1056 to 1075.
He was born around 1010, belonging to the
Swabia
Swabia
Swabia is a cultural, historic and linguistic region in southwestern Germany.-Geography:Like many cultural regions of Europe, Swabia's borders are not clearly defined...
n family of the von Steusslingen, and was educated at
Bamberg
Bamberg
Bamberg is a city in Bavaria, Germany. It is located in Upper Franconia on the river Regnitz, close to its confluence with the river Main. Bamberg is one of the few cities in Germany that was not destroyed by World War II bombings because of a nearby Artillery Factory that prevented planes from...
. He became confessor to the Emperor Henry III, who appointed him archbishop of Cologne in 1056. He took a prominent part in the government of Germany during the minority of
Henry IV
Henry IV, Holy Roman Emperor
Henry IV was King of the Romans from 1056 and Holy Roman Emperor from 1084 until his forced abdication in 1105. He was the third emperor of the Salian dynasty and one of the most powerful and important figures of the 11th century...
and was the leader of the party which in 1062 seized the person of Henry, and deprived his mother, the empress Agnes, of power. For a short time Anno exercised the chief authority in the kingdom, but he was soon obliged to share this with Adalbert, Archbishop of Bremen, and
Siegfried I, Archbishop of Mainz
Siegfried I, Archbishop of Mainz
Siegfried I was the Abbot of Fulda from 25 December 1058 until he became Archbishop of Mainz in 6 January 1060.Siegfried was a member of the Frankish Reginbodonen family of the Rhineland. His family furnished counts in the Königssondergau and burgraves and vogts of Mainz. Siegfried was educated in...
, retaining for himself the supervision of Henry's education and the title of
magister
.
The office of chancellor of the kingdom of Italy was at this period regarded as an appanage of the archbishopric of Cologne, and this was probably the reason why Anno had a considerable share in settling the papal dispute in 1064. He declared
Alexander II
Pope Alexander II
Pope Alexander II , born Anselmo da Baggio, was Pope from 1061 to 1073.He was born in Milan. As bishop of Lucca he had been an energetic coadjutor with Hildebrand of Sovana in endeavouring to suppress simony, and to enforce the celibacy of the clergy...
to be the rightful pope at a synod held at
Mantua
Mantua
Mantua is a city and comune in Lombardy, Italy and capital of the province of the same name. Mantua's historic power and influence under the Gonzaga family, made it one of the main artistic, cultural and notably musical hubs of Northern Italy and the country as a whole...
in May 1064, and took other steps to secure his recognition. Returning to Germany, he found the chief power in the hands of Adalbert, and as he was disliked by the young king, he left the court but returned and regained some of his former influence when Adalbert fell from power in 1066. He succeeded in putting down a rising against his authority in Cologne in 1074, and it was reported he had allied himself with William the Conqueror, King of England, against the emperor. Having cleared himself of this charge, Anno took no further part in public business and died in Siegburg Abbey on 4 December 1075, where he was buried.
He was
canonised
Canonization
Canonization is the act by which a Christian church declares a deceased person to be a saint, upon which declaration the person is included in the canon, or list, of recognized saints. Originally, individuals were recognized as saints without any formal process...
in 1183 by
Pope Lucius III
Pope Lucius III
Pope Lucius III , born Ubaldo, was pope from 1 September 1181 to his death.A native of the independent republic of Lucca, he was born ca. 1100 as Ubaldo, son of Orlando. He is commonly referred to as a member of the aristocratic family of Allucingoli, but this is not proven...
. He was a founder or co-founder of monasteries (Michaelsberg,
Grafschaft
Grafschaft Abbey
Grafschaft Abbey is a community of the Sisters of Mercy of Saint Charles Borromeo, formerly a Benedictine monastery, in Schmallenberg in the Sauerland, North Rhine-Westphalia, Germany.-First foundation:...
and
Affligem
Affligem Abbey
Affligem Abbey is a Benedictine monastery in the municipality of Affligem, Flemish Brabant, Belgium, twelve miles to the north-west of Brussels...
) and a builder of churches, advocated clerical celibacy and introduced a strict discipline in a number of monasteries. He was a man of great energy and ability, whose action in recognizing Alexander II was of the utmost consequence for Henry IV and for Germany.
Anno was the subject of two important literary works, the Latin
Vita Annonis
, and the Middle High German
Annolied
Annolied
The Annolied was composed around 1100 in Early Middle High German rhyming couplets by a monk of Siegburg Abbey.-Dating:A principal point of reference for the dating is the mention of Mainz as a place of coronation...
.
Literature
Vita Annonis archiepiscopi Coloniensis, R. Koepke ed., MGH

Monumenta Germaniae Historica

The Monumenta Germaniae Historica is a comprehensive series of carefully edited and published sources for the study of German history from the end of the Roman Empire to 1500.The society sponsoring the series was established by the Prussian reformer Heinrich Friedrich Karl Freiherr vom...


Scriptores 11 (Hannover 1854) 462-518.
Anno von Köln, Epistola ad monachos Malmundarienses, Neues Archiv der Gesellschaft für altere deutsche Geschichtskunde XIV (Hanover, 1876).
Dunphy, Graeme (ed.) 2003. Opitz's Anno: The Middle High German Annolied in the 1639 Edition of Martin Opitz. Scottish Papers in Germanic Studies, Glasgow. [Diplomatic edition with English translation].
Lindner, T., Anno II der Heilige, Erzbischof von Köln (1056-1075) (Leipzig 1869).
Jenal, G., Erzbischof Anno II. von Köln (1056-75) und sein politisches Wirken. Ein Beitrag zur Geschichte der Reichs- und Territorialpolitik im 11. Jahrhundert. Monographien zur Geschichte des Mittelalters 8, 2 vol. (Stuttgart 1974-1975).
Schieffer, R., Die Romreise deutscher Bischöfe im Frühjahr 1070. Anno von Köln, Siegfried von Mainz und Hermann von Bamberg bei Alexander II., Rheinische Vierteljahrsblätter 35 (1971) 152-174.