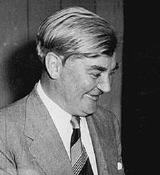 Aneurin Bevan
Aneurin "Nye" Bevan
was a
British
British people
The British are citizens of the United Kingdom, of the Isle of Man, any of the Channel Islands, or of any of the British overseas territories, and their descendants...
Labour Party
Labour Party (UK)
The Labour Party is a centre-left democratic socialist party in the United Kingdom. It surpassed the Liberal Party in general elections during the early 1920s, forming minority governments under Ramsay MacDonald in 1924 and 1929-1931. The party was in a wartime coalition from 1940 to 1945, after...
politician
Politician
A politician, political leader, or political figure is an individual who is involved in influencing public policy and decision making...
who was the Deputy Leader of the Labour Party from 1959 until his death in 1960. The son of a coal miner, Bevan was a lifelong champion of
social justice
Social justice
Social justice generally refers to the idea of creating a society or institution that is based on the principles of equality and solidarity, that understands and values human rights, and that recognizes the dignity of every human being. The term and modern concept of "social justice" was coined by...
and the rights of working people. He was a long-time
Member of Parliament
Member of Parliament
A Member of Parliament is a representative of the voters to a :parliament. In many countries with bicameral parliaments, the term applies specifically to members of the lower house, as upper houses often have a different title, such as senate, and thus also have different titles for its members,...
(MP), representing Ebbw Vale for 31 years, and became recognised as one of the leaders of the party's left wing, and of left-wing British thought generally.
The Labour Party should oppose the Government arms plan root and branch.

Tribune, 19 February 1937.
What argument have they to persuade the young men to fight except merely in another squalid attempt to defend themselves against a redistribution of the international swag?

Hansard, House of Commons 5th series, vol. 346, col. 2139.
Apparently some fire-eaters to-day have been saying "Never again must we allow ourselves to get into the same condition of military unprepardness, so we are going to build up a vast war machine in this country in order to surround defeated Germany with a sea of peaceful tranquillity..." It looks as though the consequences of defeat will be more desirable than those of victory.

Hansard, House of Commons 5th series, vol. 402, col. 1559.
This island is made mainly of coal and surrounded by fish. Only an organizing genius could produce a shortage of coal and fish at the same time.

Daily Herald, 25 May 1945
The language of priorities is the religion of socialism.

Labour Party Conference, Blackpool 1949
There is only one hope for mankind — and that is democratic Socialism.

Hansard, House of Commons, 5th series, vol. 487, col. 43.